New art gallery opens in Tauranga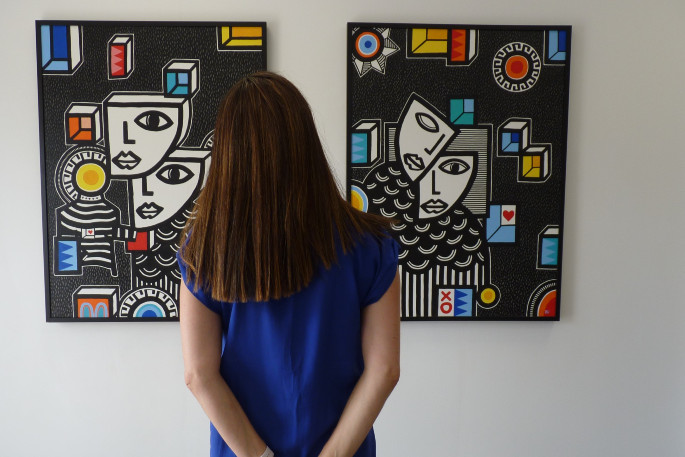 Tauranga's vibrant art scene is growing with the addition of a new art space in Te Puna.
Tauranga's glitterati and arty crowd celebrated the launch of Gallery Te Puna with a glamorous party on Thursday evening hosted by its owners Joanne O'Keeffe and Penny Oxnam, who also own the popular restaurant next door, the White House.
Guests were served bubbles and delicious nibbles from the restaurant like tender lamb fillets and succulent prawns on a bed of cream cheese.
Joanne and Penny are well established Bay restaurateurs having run top eateries in town including Bluebiyou, and Phil's Place -the former waterfront eatery owned by ACDC drummer Phil Rudd.
When the couple bought the White House, transforming one of Tauranga's oldest cottages into a stunning multi-room restaurant and romantic rose garden complete with fairy lights, they had a vision for turning the space next door into an art gallery where they could also host events and workshops.
"When we first walked through the big barn next door it had an exciting warehouse feel with its huge ceilings, big beams, and expansive rooms, I looked at Penny and said, do you know what this would be perfect for? She said, an art gallery, and I said, exactly," says Joanne.
With their eye for design, they set about the makeover, transforming part of the car park outside into a dramatic stone curving pathway lined with sculptures. The entrance was built by the owner of the land, Paul Williams.
To manage the gallery they recruited a fellow well known restaurant business manager Kirsty Goddard, who most recently managed events at The Tauranga Club in Devonport Towers.
Joining Kirsty is Amy McFetridge who is experienced in the arts and service industries in operations and event management.
Local resident ceramic artist Sophie Evans will be working on-site and at times will be running workshops. Some of her work was on display at the opening including eye catching ceramic bowls designed to be placed as centre pieces of outdoor tables to attract birds.
Joanne says that the gallery will showcase Tauranga's talented artists as well as hand picking pieces of art from the rest of Aotearoa.
"There are so many outstanding artists in this region that we are lucky to have such a diverse selection of work to choose from."
As well as resident artist Evans, other exhibiting artists currently include Graham Crow, Lee Kleiman, John Lancashire, Fane Flaws, Gary Brooks, Dali Susanto, Bernie Winkles, Di Armstrong, Lynne Iggulden, Ricks Terstappen, and Lynette Fisher.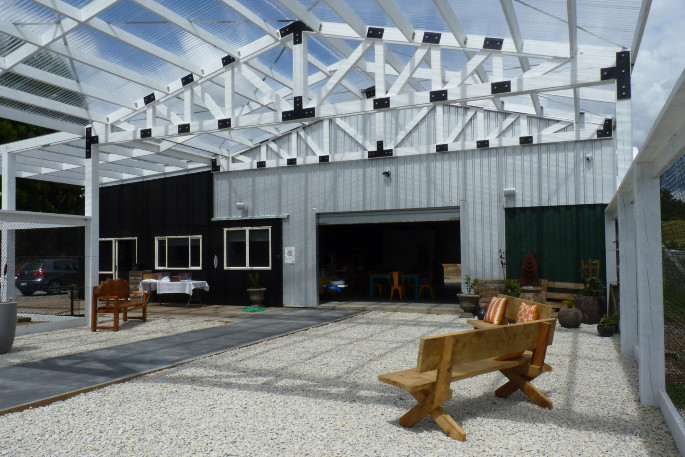 Lynette says that local artists are buzzing about the new gallery.
"It is so elegant and spacious which makes the art really stand out."
An upcoming exhibition will be a Nude series by Tauranga artist Graham Crow.
Joanne says there are exciting plans ahead for unique exhibitions as well as workshops.
"We very much want it to be an interactive space and I imagine the workshops will be popular where you can create your own art alongside the experts."
"And of course if all the creativity has stirred up a thirst, the gallery's visitors can easily pop next door to the restaurant for lunch, making it the perfect day out indulging in local food and culture."
The gallery will be open Tuesday to Sunday 10am to 4pm and closed Mondays.
Contact email is gallerytepuna@gmail.com, phone 07 5525522, and address is 15e Minden Road,Te Puna, next door to White House Restaurant.
More on SunLive...