Schoolteachers support Katikati trust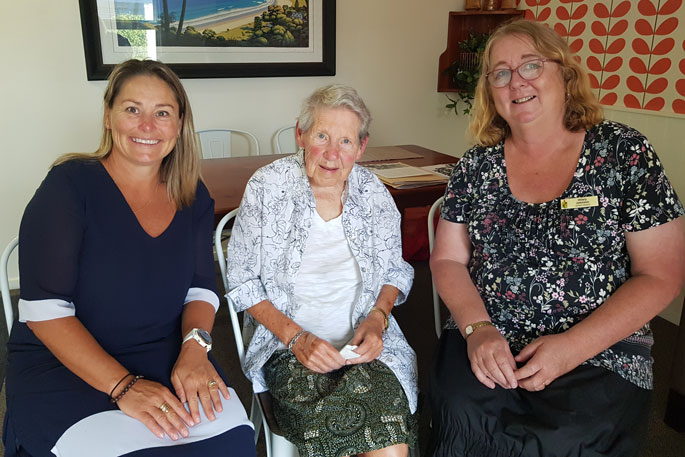 Jopie Heuseveldt, who turned 90 over the weekend, has been a fan of Katikati College for decades.
She and her late husband, Kees, immigrated to New Zealand from Holland and originally settled in Christchurch where they both worked as teachers.
While serving as VSA volunteers in Tonga from 1968 to 1970, they made friends with a couple from Katikati who invited them for a visit.
It only took one trip to the Western Bay of Plenty to convince Jopie and Kees that they had found their new home, and they soon bought property in Omokoroa.
Both Jopie and Kees found a place at Katikati College, where Kees installed a new workshop and taught Engineering and Technical Drawing.
Jopie had taught primary school in Christchurch, so she was very excited to be hired to teach English and History at the college.
They both retired in the 1980's, and Jopie moved to Katikati after Kees passed away.
Jopie has recently committed to supporting the Katikati Innovative Horticultural Project through her Acorn Foundation fund.
She chose this cause due to Kees' passion for growing trees of every type on their property in Omokoroa and her belief that supporting students into careers in horticulture will greatly benefit the area.
Since the Katikati Innovative Horticultural Project is setting out to create a centre of horticultural educational excellence that will cater for college-aged students, young people not in education, employment or training and the local community, it perfectly aligns with Jopie's vision for the area.
After meeting Jopie recently, Katikati College horticulture head teacher Hilary Johnson says she's hugely grateful to Jopie for not just her generosity, but for her vision in seeing how her contribution can go towards affecting so many young lives in our community, which then of course translates into older lives contributing to our community and society in general.
"To receive support for our project from a private individual with no affiliations to the horticultural industry is truly humbling. She greatly recognises that learning must be relevant and real to the individual.
"This is something that underpins our personalised Innovative Horticulture programme and is one of the key factors making it successful."
"Quite simply she reminded me why I love my job! Being a teacher is truly a calling for some like Jopie, and even at 90 she still has a lesson or two to teach others," says Katikati College Principal Carolyn Pentecost.
"I imagine she was a game changer for the students lucky enough to have her as a teacher. Her humility and passion are the essence of a good teacher and something I will always strive to achieve as an educator."
The Acorn Foundation has been working with generous donors like Jopie Heuseveldt to support local organisations working in areas of interest to them since 2003.
For more information on how you might support the community you love, go to www.acornfoundation.org.nz
For more information on the exciting work being done at the Katikati Innovative Horticultural Project, go to www.katikatiihp.com
More on SunLive...