DOC ranger set to retire after 37 years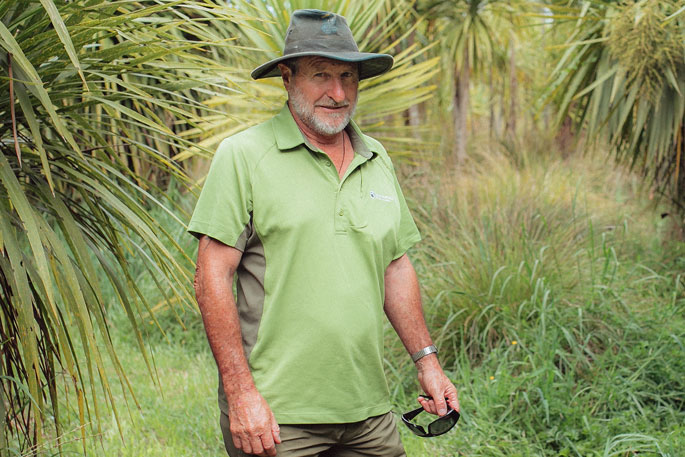 After 37 years with the Department of Conservation, Waikato Ranger Chris Annandale is into his last summer with the organisation.
Chris Annandale will get a few more months out his well-worn boots, then hang them up and retire in April this year.
His life in conservation began early. It was a seed planted by his dad, Jock Annandale, who was an honorary Wildlife Service ranger. Jock Annandale encouraged his son to get out into the world, to explore and learn about it.
Chris Annandale grew up reading Newton McConochie's, 'You'll learn no harm from the hills', until one day with money in his pocket from his grandmother, he was buying rat traps to set down at the Waikato River.
He began his formal career in conservation in 1984, with a redundancy, a cold beer with an old army mate, Dave Mills, and a late-night phone call.
"Lands and Survey need a ranger," says Dave Mills. "But you'll need to meet the Senior Ranger first."
Chris met Senior Ranger John Greenwood while hunting. "A mate and I were hunting in a reserve and we ran into a bloke called John Greenwood who was doing the same" Chris Annandale says.
"I asked him, 'can I see your permit?'. He looked at me and said, 'can I see your permit?'." It turned out John Greenwood was the Senior Ranger.
John asked the important questions: "Can you read a compass? Can you read a map? Can you use a chainsaw?" Yes, yes and yes. The penny finally dropped, and John recalled the chance meeting in the reserve, he asked: "Did you know I was the Senior Ranger?" No. And so began the career spanning nearly four decades with the simple statement: "You have the job".
A lot can change in 37 years.
In 1984 Lands and Survey had a base on Pukete Rd and in 1987, when it became the Department of Conservation, the base moved to Northway Street, Te Rapa.
In 1990 it was predominantly a workshop with a single computer. Today, it's an office with more than 30 workstations and an attached workshop.
The use of technology in conservation is one of the biggest changes, Chris says: "Compass bearings and hip-chains were replaced with GPS, revolutionising the way monitoring and trapping work was done. Technology is one of the best things to happen in the work to conserve the biodiversity of Aotearoa."
The richness of a career in conservation provides a lifetime of memories and the experiences can change people. A stranded orca family in Aotea Harbour changed Chris.
"We took turns looking after the stranded bull and cow while cradling the baby in the water. At one point someone asked, 'Is the cow still alive?' and she gave a loud exhale as if to say 'yes!'.
"She was hit by a wave and her body language changed; I could sense something was going to happen. The next wave lifted her up and she pushed off that sandbar with such power."
Ranger Garry Hickman then let go of the calf.
"She was like a torpedo straight to her mother," says Chris.
"We turned our attention to the bull, the waves flipping him over. There we were, our shoulders against him, pushing to turn him up the right way. The wave picked him up and he was off towards his family."
But the bull beached on the sandbar again.
"I thought that was it. We couldn't do more. But something happened. I'd never seen an animal put on such a display of power as he inched himself over the sandbar and finally into the deep water."
"The experience changed me as a person, it changed me deep inside. I stop and look more now, I pay attention. If I'm out hunting and I see a hind and fawn, I take the bullets out. I get more enjoyment stopping to watch."
How does a life in conservation end? Chris has four grandchildren: Ben (18), Madison (12), Morgan (10) and Brodie (9) and knows a life in conservation simply does not stop.
Chris will spend this next season of his life with his family, nurturing a love for the environment, teaching them to go out into the world and explore and learn, as his father taught him.
And he will make his annual pilgrimage to Lakes Whangape, Waikare and Arearea for duck-shooting with his sidekick, Tui the dog.
It's a summer with an ending which will mark a new beginning for Chris and his family.
More on SunLive...