Ethical fashion conversation coming to Tauranga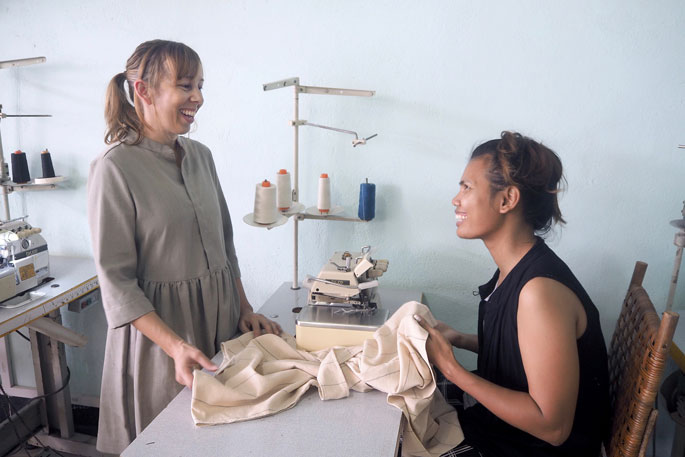 While everyone loves a bargain, more and more people are starting to think about whether the production of the clothes on their back is causing harm to people and the planet.
Erica Gadsby, Founding Director of ReCreate Clothing, will be speaking at Lyon O'Neale Arnold Lawyers' Wonder Women networking event in Tauranga on February 23 about ethical fashion and giving back to the community where the company's clothing is made.
ReCreate set up a sewing centre in the disadvantaged community of Dey Tmey in Cambodia in 2013 to provide fair employment for predominantly women, empowering people to provide for themselves, their families and their futures.
"It started from a very personal place. My husband and I were volunteering with a NGO in Dey Tmey and saw families living under tarps with sticks," says Erica, a mother of two.
"It eventually grew to include a marketplace and a school, but there was no employment for women and they were forced into menial labour, prostitution and selling their children into slave labour or brothels."
In addition to sewing training, profits from ReCreate are used to support community initiatives such as family support, school sponsorship, medical assistance and community development.
Lyon O'Neale Arnold Director Denise Arnold is the Founder of the Cambodia Charitable Trust, which also works in rural Cambodia to support children to gain access to education, so the two organisations have a shared vision for helping the people of Cambodia.
Erica says ReCreate is not just about being ethical. "It's about empowering and transforming communities." And their customers welcome the vision as much as they do the beautiful clothing.
"People are becoming more aware of fast fashion and the exploitation of workers who produce it. Our customers love being able to shop ethically."
As well as ethical production, ReCreate employs sustainable business practices, including using organic fabrics and environmentally friendly packaging.
"We've never used plastic bags. Our clothes are packaged in a reusable cloth bag and shipped inside a plant-based, compostable courier bag."
ReCreate is well-known for its range of comfortable casual wear but has also branched out into smart dresses, pants and skirts following the addition of Creative Director Marielle Van de Ven, a former designer for Karen Walker, to the team.
The company sells mainly online at recreateclothing.co.nz but also has 30 stockists throughout New Zealand, with Wendy's Boutique and Paddington Store in Tauranga coming on board shortly.
Hear from ReCreate and other ethical fashion providers, and view some of the products available for sale, at Wonder Women, Tauranga Yacht & Power Boat Club, 90 Keith Allen Drive, 5.30pm-7.30pm, Tuesday 23 February.
Tickets $15 from www.eventspronto.co.nz/ethical.fashion. All proceeds to ReCreate.
More on SunLive...