The unstoppable Team Nancy takes on triathlon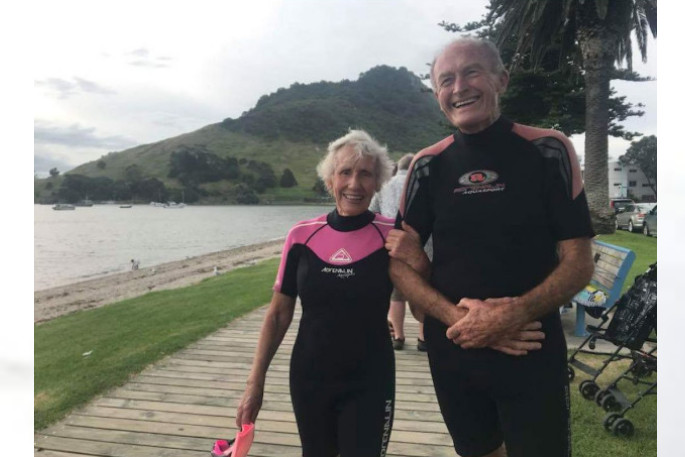 Amongst the teams, individual competitors and supporters at the Generation Homes Women's Triathlon at Mount Maunganui today will be a group cheering on 'Team Nancy'.
Eighty-year-old Nancy Langton will be the first octogenarian to be competing in the tri-chick event, now in its eighth year. Her age though is not the only thing that's sent her family, friends and supporters into fan mode.
"She wanted to compete as an individual but she has terminal cancer," says family friend Chis Deacon. "She can't do the swimming because she is wearing a pack to help deal with the pain."
In the palliative care stage of her cancer, and an active swimmer, runner and cyclist, Nancy decided she wanted to compete and is doing the ten km bike ride as part of a team.
"She's inspired us all to get out of bed every day," says Chris. "She's been a long-time family friend for nearly 40 years. She's been a mum for me."
Being a bloke, Chris can't compete in the women's only event that encourages participation of women from 11 years of age and at any level of fitness and ability. But he can cheer from the side.
"We have tee shirts printed up with 'Team Nancy'. Eden Stanley from Colourworks Screen Printers did the tee shirts in two days in her own time – she was fully booked up until March!
"About 20 or more supporters are part of 'Team Nancy' wearing tee shirts, with about seven competitors in the race wearing 'Team Nancy' singlets."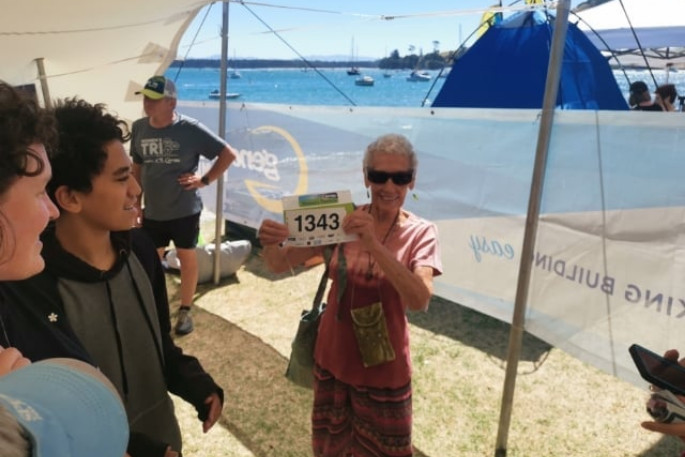 Nancy Langton, picking up her racing number on Friday evening. Photo: Chris Deacon
"My tee shirt has Team Nancy on the front, and they made a flap to go over the back that says 'I am Nancy'," says Nancy, smiling at the support she is receiving.
The triathlon involves a 400m swim, a 10km cycle and a 4km run/walk and is set against the beautiful backdrop of Mount Maunganui and Pilot Bay.
Participants compete as individuals, as a team of two or three people, and as a mother/daughter team racing as individuals. Some of the Auckland competitors will be taking part by way of a virtual challenge.
At the triathlon village in Pilot, there is the Generations Homes NZ photo booth, a coffee cart, icecream and fruit smoothies, face painting and a bouncy castle for the kids.
Zeenya Clothing, Strong Woman and R-Line Electrolyte Drink will be onsite with stands. For last minute strapping and massage, Bureta Physiotherapy are there to take care of last minute strapping and massage, and the Naturally Chiropractic team are also on site ready to lend a hand.
The Team from MyRide Mt Maunganui will be providing some interactive fun, and people can make a fruit smoothie on a Zespri International smoothie bike, with proceeds going to support girls age 11 -13 years to get active through a programme called triSASSY which is run by Triathlon Tauranga.
With over $7,000 worth of spot prizes donated this year and medals on offer, it's certainly worthwhile sticking around for the prize-giving at 11.15am or 15 minutes after the last competitor finishes.
Nancy's daughter Elissa is doing the swim section, and will be joining Nancy on the bike ride.
"My mother Nan McKenzie, age 79 is doing the 4km walk/run," says Chris.
His wife Angela Deacon, his sister Anne Jens, and sister-in-law is Jenni Scott are doing the triathlon as individuals. They will all be wearing 'Team Nancy' singlets.
"A friend Taita Bray is also wearing a Team Nancy singlet and will doing the tri as an individual," says Chris.
Chris and Nancy's friends and family members will be cheering Nancy from the sidelines. It could get very noisy.
"She's inspired all of us," says Chris.
More on SunLive...