Family bike day exploring Te Puna to Omokoroa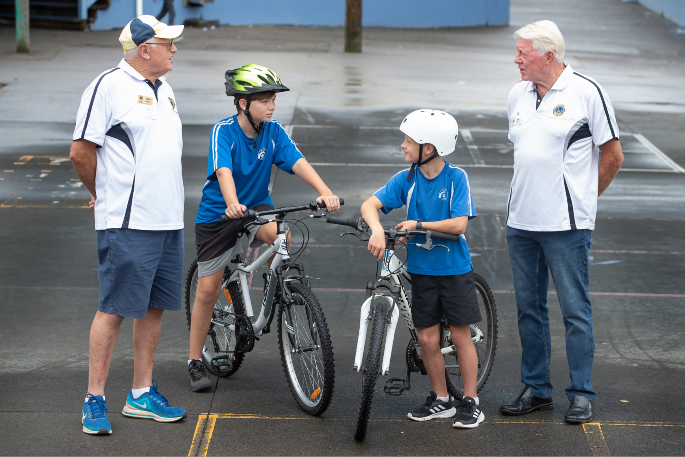 For those keen to explore the Te Puna to Omokoroa cycleway, an exciting family bike day is planned for March.
"We've run the Te Puna Quarry Fest over a number of years, and because of COVID-19 had to cancel that last year," says Bethlehem Te Puna Lion member Doug Morris.
"This year we want to highlight the Omokoroa to Tauranga cycleway, and encourage people to enjoy the section from Te Puna to Omokoroa and back."
The Lions Club of Bethlehem Te Puna, in association with Bike Garage will be running the Lions Family Bike Day on Sunday March 7 from 10am – 1pm.
"We are encouraging people to arrive from 9am for a 10am start and take a relaxed 7.5km family bike ride from Maramatanga Park in Te Puna to Tamahina Park in Omokoroa."
The Omokoroa Lions will run a sausage sizzle with drinks at the Tamahina Park halfway mark.
"Then it's a casual ride back to Te Puna," says Doug. "Once bikers return from the 15km ride, they can enjoy stalls, a kid's slide, a Jiu Jitsu demonstration, food, barbecue, entertainment, and quick-fire raffles."
Bike Garage will provide help with bike repairs, making sure everyone's chains, pedals, and gears are safe and working. Back at Maramatanga Park there will also be a 16-inch bike race, a puncture repair race, and a bike trials demonstration.
Doug says there will be prizes of chicken and meat, spot prizes and two big prizes of a weekend for a family of four to Taupo with $100 spending money.
"We want to invigorate our local Te Puna community," says Doug. "Anyone can come. It's a community day for locals as well as people from the greater Tauranga and Omokoroa areas."
The entry fees and proceeds will go to supporting Child Cancer.
"We're looking for a good turnout of people to enjoy the new part of the cycleway from Te Puna to Omokoroa."
Registrations on Sunday March 7 begin at 9am at Maramatanga Park, Te Puna. The ride starts at 10am and is expected to take approximately two hours, followed by prizes, entertainment and more food until 1pm.
Entry fee is Adult $10, Junior (under 15 years) $5, and Family $20.
More information and updates will be on the Bethlehem Te Puna Lions Facebook page.
More on SunLive...