Butt naked for breast cancer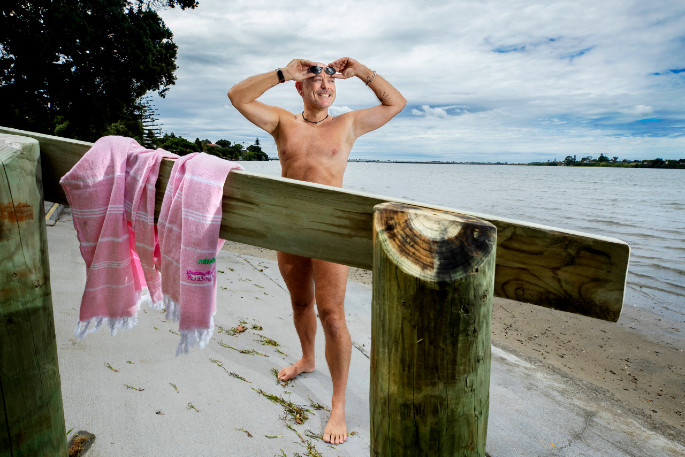 Brave bathers are baring it all for breast cancer by skinny-dipping en masse at the Nude Dude Swim this month.
The togless dip will raise money for the Breast Cancer Support Service Tauranga Trust.
Stephen Hahn swam last year and is taking the plunge for the 100m swim next Friday as well. And this time, he's feeling more confident and won't be making the same mistake he did last time.
Near the end of the last swim Stephen realised how shallow it was. He looked around and wondered why everyone was still swimming, so he stood up to walk. After remembering he was naked, it clicked.
He bravely walked the rest of the way not wanting people to think he was embarrassed about being starkers if he went back under. Stephen laughs about it heartily now.
"I should have stayed in the water for longer - that would have been a better option," he says.
Stephen is swimming for his sister Caroline, who died from breast cancer complications four years ago.
At 55 he has lived longer than Caroline, who died aged 52. "No one is supposed to die that young," he says.
When Caroline was dealing with cancer she had an amazing support network, and it was this level of help which inspired him to raise money for the trust.
Prior to his first swim he was extremely nervous, but says the organisers and officials are friendly and reassuring.
"The swim is the easy part. The difficulty is having the courage to take your clothes off and stand up for something which is important."
Trust manager Helen Alice says the swim for men and women is about celebrating bodies as well as fundraising. She has done the swim herself, and says it's a lovely thing to do.
"The energy amongst the people, as well as being quite a lot of nervous energy, makes it a really fun, supportive environment and people enjoy it."
The swim is at a private undisclosed location without spectators and Omanu Surf Lifesavers ensure everyone is safe during the outdoor swim.
Swimmers gain sponsorship for their dip, and last year 24 participants raised $12,000. This year the trust is aiming to make $15,000.
Helen says often people that aren't brave enough to do it themselves are happy to donate.
The funds will go towards providing emotional and practical support for Western Bay of Plenty women and men who are diagnosed with breast cancer.
The trust provides dinner delivery, oncology massage, information, support groups and support workers.
Stephen encourages everyone to take part and not worry about their bodies.
"Be who you are, it doesn't matter that none of us are models," he says.
For information about the swim on February 26, visit: www.givealittle.co.nz and search 'Nude Dude Swim'.
More on SunLive...