Lime discourages scooter sculpture in Tauranga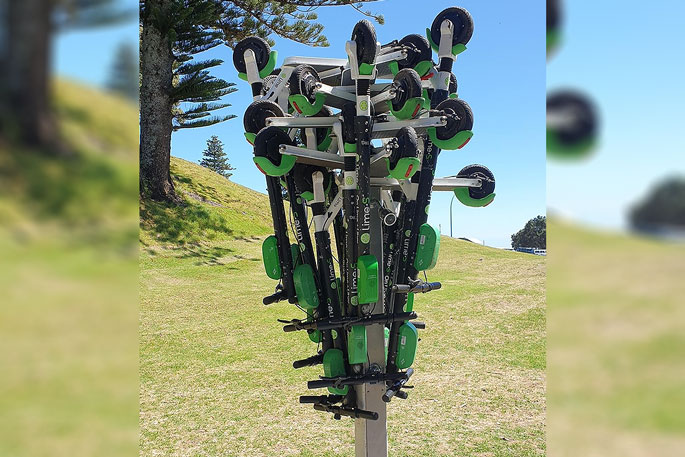 A strange sculpture on a public outdoor shower in Mount Maunganui is being described as a "graveyard" for Lime scooters.
Peter Clark was driving down Marine Parade on Thursday morning when he spotted about 11 Lime scooters hanging upside down over the Mount Drury public shower.
"I was shocked when I saw it, the person who did it must not like Lime scooters," Peter says.
"Somebody has gone to a great effort to get all the scooters up there."
Lime scooters popped up across Tauranga in October 2020.
Tauranga City Council approved a 12-month trial of them after an initial rollout in May was shelved due to Covid-19.
Peter reckons the scooters look like "litter" on the streets of Mount Maunganui.
"I have been against them since day one. They just aren't a practical option and they are dangerous," says Peter.
"They should make the sculpture permanent as a graveyard for lime scooters."
Lime Australia and New Zealand public affairs manager Lauren Mentjox says this kind of sculpture makes it hard for the public to access the scooters.
"While we appreciate the creativity, electric scooters provide important sustainable mobility options and this makes them harder for people to access," she says.
"We encourage this artist to use something other than our scooters for their next masterpiece."
More on SunLive...