Course record tumbles at Waihi Pro-Am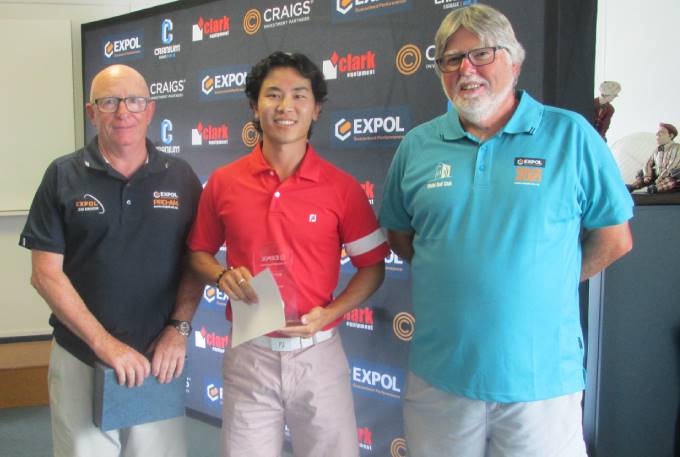 A course record has been broken at the Waihi Golf Club.
A host of professionals and amateurs descended on Waihi for the 2021 Expol Pro-
Am tournament at the weekend.
Club member Ken Purcell got the ball rolling hitting the first ball of the tournament, after first being presented with an Expol shirt and golf ball by last year's opener, Bob Hoggard.
Players then dispersed to their respective tees at Waihi Golf Club, with the course described later by PGA General Manager Dominic Sainsbury as "immaculate", and endorsed by Auckland professional Tae Koh.
He went on to break the course record with 61 off the stick, finishing the tournament 17 shots under par.
The event's nationwide sponsors Expol, Cranium Signage, Clark Equipment, Gas NZ, Golf Warehouse, Craigs Investment Partners, and Peter Hikaka Investigations ensured a significant prize table.
More than 33 professionals were present with each team of three amateurs headed by a professional, playing a stableford competition for combined stableford over 36 holes, with the best three of four scores on each hole to count.
Prizes were awarded for the Maureen Murray Memorial Trophy for the best individual stableford over the field, and professional golfers competed for the best gross score in the tournament.
Prizes were awarded for the longest drive, nearest the pin on the par three holes, and would have been awarded for a hole in one on the sixth had it happened.
Well-known radio personality Peter Williams provided commentary and compered the post golf activities including exhibitions in putting, chipping and bunker play by professionals Mark Brown, Richard Lee and Harry Bateman.
At the prize-giving function NZPGA Dominic Sainsbury congratulated the organizing committee on a successful and fun tournament, and awarded prizes to the professional players.
Terry Mischefski, of major sponsor Expol thanked the players for their participation in the tournament and awarded all other prizes.
More on SunLive...