Using robotics for 3D metal printing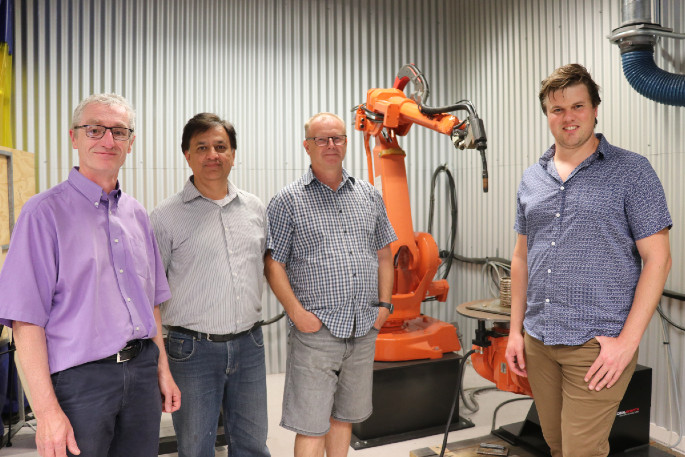 Local research engineer Ben Jackson, 29, believes Tauranga is the place to be for smart thinkers and solutions around engineering and robotics.
He is part of TiDA's team of four working to solve complex problems.
Their business success story involves a refurbished robot imported from the United Kingdom by TiDA Ltd. - a Tauranga-based metals research business, which is being used to develop a robotic welding 3D printing system.
Ben, who is also a University of Waikato doctorate student, says the waste-reducing technology has exciting potential applications for many industries, like heavy engineering, architecture and even art.
The technology, Wire Arc Additive Manufacturing - WAAM, can repair, remanufacture and produce large metal components taking any shape. The importance of WAAM technology was highlighted quite significantly by COVID-19.
"New Zealand is at the end of a long, and easily disrupted, supply chain for large metal parts that are vital to our country's infrastructure, such as for power generation, water, shipping and food processing industries. Producing parts locally cuts out long lead times and logistics issues," says Ben.
Not only can New Zealand benefit from this new technology. WAAM may enable a faster turnaround time for the manufacture of parts, with files sent digitally rather than shipping large parts across long distances.
"Essentially, WAAM is standard MIG welding but using an industrial robot arm," says Ben.
"Using complex software that's been developed in-house, we can control the robot and the welder to build layers of weld on top of each other to make a part.
"The part can be built from any shaped substrate; you use the robot welding technique to build the part you want completely from scratch off that surface."
While it is early days for TiDA and the robot, case study parts from overseas have included ships' propellers, large parts for power generation like turbines, and aircraft structure components.
"We are very much scoping out and prototyping areas of application," says Ben.
"For architecture applications, we have built a number of different beam nodes which are complex joints that connect a number of beams as part of a larger structure. It's exciting to see where the technology can go from here."
TiDA was formed to help New Zealand companies develop titanium metallurgy products, and provides research capability for other metals, ceramics and composites. It works on a variety of projects, many funded by the Ministry of Business, Innovation and Employment - MBIE, and actively collaborates with Callaghan Innovations, GNS Science, the University of Waikato and other tertiary providers.
More on SunLive...