Celebrating 80 at walking basketball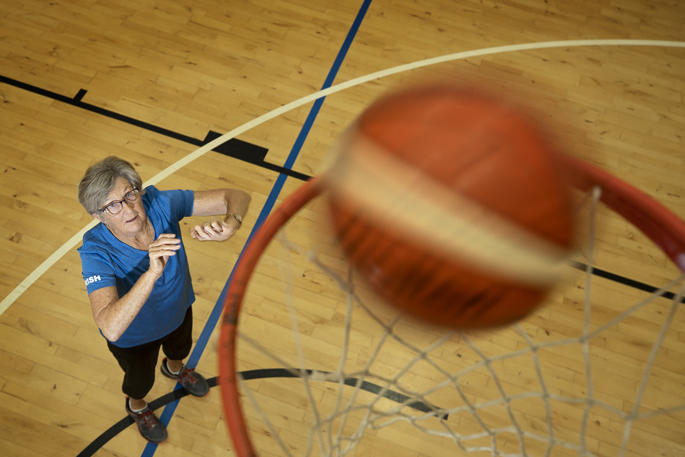 Tauranga woman Trish Muir will spend her 80th birthday doing what she loves most – playing ball, shooting hoops and competing with some of her best mates.
Trish, who has played basketball competitively for more than 40 years, is encouraging other seniors to get involved in the sport.
Senior Women Into Shooting Hoops, also known as SWISH, is a group of about 20 who meet to play walking basketball weekly.
Essentially, the sport is a "slower, low impact" version of the regular game.
Despite the name, Trish says people in the team range in age from 22-80. This includes a granddaughter who comes along with her grandmother.
The walking basketball season will start today in Tauranga, with games being held at various locations.
"It's a great game, it just gets you.
"And the women who are playing at the moment, some of them just can't wait for Thursday to come around."
Trish first got involved in the sport when she was 16 in 1957. She had just finished high school in Tauranga.
After years of playing netball, she suddenly became hooked after joining a club team called Atomic with other teenagers.
"Basketball soon got me. I just loved it – I didn't play any netball after that.
"It was so much faster, you could dribble and shoot – I just fell in love with the game."
The team would travel around to other parts of the Bay of Plenty for club tournaments.
The now 80-year-old says both basketball and tennis consumed most of her teenage life.
"I am not sure what I enjoy most, both sports took up a lot of my time."
Trish then went onto playing in a representative team for Tauranga for many years.
In 1989, Trish joined a team called the Tauranga Atomic Masters. They played at New Zealand and Australian tournaments up until 1999.
In 2004, they came together again to compete in the Pan Pacific Masters Games where they won gold in the 60+ grade.
"That was our swan song," she says.
Alongside playing competitively, Trish has also spent many years coaching and refereeing for school teams in Tauranga.
Nowadays, she loves to train with her five grandchildren who all play basketball.
"I love shooting. If I see a basketball hoop I just want to get hold of a basketball."
Trish says walking basketball is surprisingly tiring.
"You end up walking very fast – you get very into it and burn a lot of energy."
She says anyone is welcome to join SWISH, even if you don't have any experience playing the game.
"The best thing about it is friendship, it is just the loveliest group of women who play."
For more information visit this page.
More on SunLive...