Symphonia's Four Seasons with a difference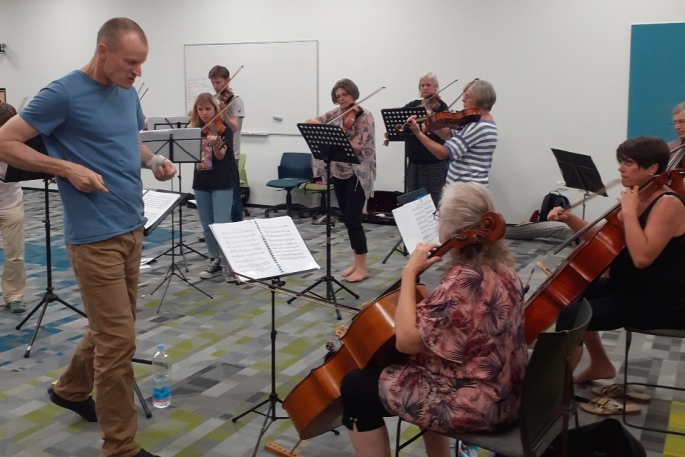 The Bay's community orchestra has added an extra-special summer concert to its 2021 programme, to cater for all those music lovers who missed hearing live classical performances last year.
A chamber group from the Bay of Plenty Symphonia's string players will present Vivaldi's ever popular Four Seasons - and more - at Holy Trinity Church on February 13, with two of New Zealand's top soloists.
Centre stage as the virtuoso violin soloist will be Andrew Beer, known to many as the long-time concertmaster of the Auckland Philharmonia. Andrew invited the orchestra to accompany him in Vivaldi's concertos, with the additional draw card of incorporating Four Seasons of Buenos Aires, a lesser-known work by the Argentine composer Astor Piazzolla.
Having performed some of Piazzolla's fabulous tango-inspired pieces a few years ago in its Taiko to Tango concert, the Symphonia players were keen to join with Andrew and his colleague, top cellist Ashley Brown, in this special project.
In the concert, Piazzolla's South American 'Seasons' are interspersed with Vivaldi's, including numerous cross-references to the famous concertos, and building in the joke of inverted seasons between the hemispheres. With two top soloists, guest harpsichordist Chalium Poppy and conductor Justus Rozemond, this is a seasonal event not to be missed!
Bay of Plenty Symphonia will be performing Four Seasons at Holy Trinity Church, Devonport Rd, Tauranga, on Saturday, February 13, from 7.30pm.
Tickets cost $20 for adults and seniors and $5 for those aged 18 and under. Tickets are available from Eventfinda and i-Sites, and booking fees apply. Cash-only door sales are also available on the night.
The concert will be repeated at 3pm on Sunday, February 14, at Harvest Centre, Rotorua.
More on SunLive...