Protesters tearful at meeting opposing Maori wards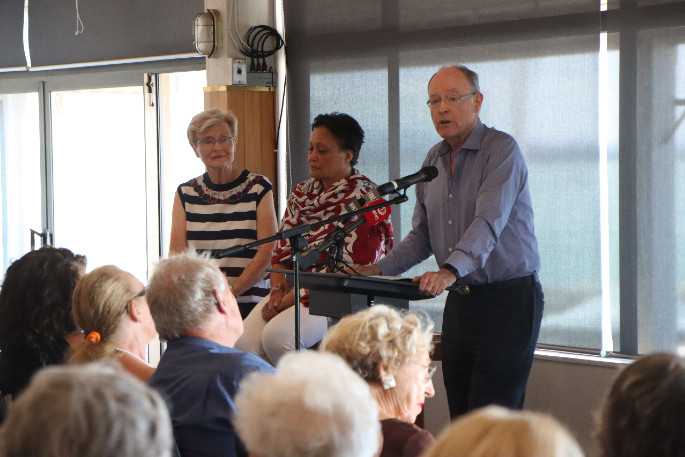 Emotions ran high at a public meeting discussing the implementation of Maori wards in Tauranga last Friday with opposing views on racism and approaches that benefit Maori.
Hobson's pledge members Don Brash and Casey Costello were headline speakers at the meeting, along with New Conservative member Elliot Ikilei.
The gathering was organised by a group called Concerned Citizens, which recently submitted a petition opposing Maori wards. Hundreds of people both in favour and against the petition attended.
Protesters standing with signs and Maori flags filled the back of the Tauranga Yacht Club club room, behind rows of seats filled to the brim with other meeting attendees.
Some of the remarks made by Brash, Casey and Ikilei were visibly difficult for protesters to hear, with many shaking their heads and tearing up.
Tauranga City Council voted to establish a Maori ward for the 2022 local government election in August last year. Concerned Citizens then started a petition calling for a binding poll on the issue.
A binding poll is required if requested in writing and signed by at least five per cent of electors.
The Electoral Office confirmed that the introduction of a Maori ward at Tauranga City Council would go to a referendum last Friday, with the petition reaching the threshold of 4742 signatures.
However, a proposed legislation announced by Local Government Minister Nanaia Mahuta last Sunday could mean the petition against the establishment of a Maori Ward will no longer be upheld.
The first stage of the legislative reform will include immediate changes to establish transitional measures making the establishment of Maori wards easier ahead of the 2022 local elections.
In his speech, Ikilei argued that everyone wants equality, and believes the implementation of Maori wards encourages segregation.
He told the crowd judging people based on the colour of their skin is "nothing less than Nazi-style racism".
Protesters sang a waiata together during his speech.
Brash covered a range of topics. When Te Tiriti o Waitangi was raised, the crowd began sharing their opinions, with both sides yelling at each other.
Arguments for Maori Wards, and against the petition followed from iwi leader Buddy Mikaere and one other speaker.
Buddy says the fact that no other ward has gone through the same process or scrutiny proves that racism is fuelling the petition.
He says the views of Concerned Citizens and others who support the petition do not represent the views of Tauranga.
"The tides are turning. Your day is done."
He says Maori representation on council is crucial, so Maori issues are properly represented.
"When you see that actually, almost 20 per cent of the population in Tauranga is Maori. I am sure those people are entitled to have a say in how the city operates."
More on SunLive...