A whole lot of love on day one at One Love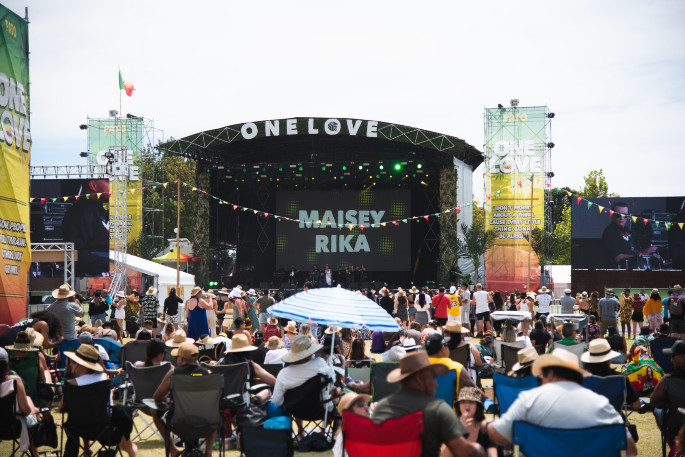 Good vibes, sunshine, great music and a whole lot of love sums up the atmosphere at Wharepai Domain in the heart of Tauranga City.
A 20000 strong crowd laughed danced and sang its way through the gates for day one of the two-day One Love Festival.

The sold-out festival, now in its eighth year, has grown to be recognised as one of New Zealand's best events - in 2020 One Love Festival and Pato Entertainment took out "New Zealand's Favourite Event" at the NZEA New Zealand Event Awards.

One of its regular star acts, the Bay's own Stan Walker, takes the accolades up a notch, calling it the best reggae festival in the world.

With much of that world in lockdown and unable to go out, never mind party, there was a sense of gratitude and freedom among the 20000 strong crowd.

"To be able to be one of the only countries in the world that is able to hold full scale festivals without any social distancing, make this one for the history books," says festival organiser Pato Alvarez.
Inderpreet Kaur with best friend Hena Dugh. Photo: Jack Neale.
Inderpreet Kaur from Hastings and her best friend Hena Dugh from Auckland are at One Love for the first time,
"We came for the experience, which we have heard so much about. And it's all true- you can feel the love," says Inderpreet.

Putting on the event under the cloud of a global pandemic was not without its challenges for Pato and his hard working team.

"We didn't know whether international acts would be able to come, we had to stay flexible."

Despite that, the event is delivering a stellar line up including Stan Walker, Maisy Rika, Katchafire, Sons of Zion, Fat Freddys Drop, and crowd favourite, the unstoppable L.A.B.
Taliyah Jensen and her uncle Josh Brown have come all the way from Levin.
"This is Jess's first concert," says Josh. "We've never been to One Love before but heard such great things so wanted to see what it's all about. We are loving it- staying in Papamoa which is awesome."
"This year showcases the incredible music talent that we have right here in Aotearoa. With 95 per cent of the acts being homegrown talent it's a real testament to our local musicians," says Pato.

All the dancing builds up a thirst. There's a variety of food and drink to satisfy all tastes. Proving popular is Greenroom Vodka, a mixer drink designed especially for festivals by Pato himself and his business partner Mitch Lowe.

Another draw card is the Kava Corner, run by hip hop star Melodownz.

The ongoing success of the festival is due to its strong vision which Alvarez had from the outset- quite simply bringing people together for music, food and love.

"One Love is all about bringing people together, there is no other festival quite like One Love. It's a celebration of music, arts and culture all jammed into two full days of epic entertainment. The people and the music all creates such an amazing vibe."

Pato says his team work so hard to make the best days for people. His core team of 20 expands to 1000 in festival season.

Even as One Love New Zealand is in full flow, Pato is still hard at work on bringing back the Gold Coast One Love Festival in 2021.

"The ever-changing COVID restrictions have slowed down the announcement but we will be back. Watch this space!"
More on SunLive...