Horseback circumnavigation passes Tauranga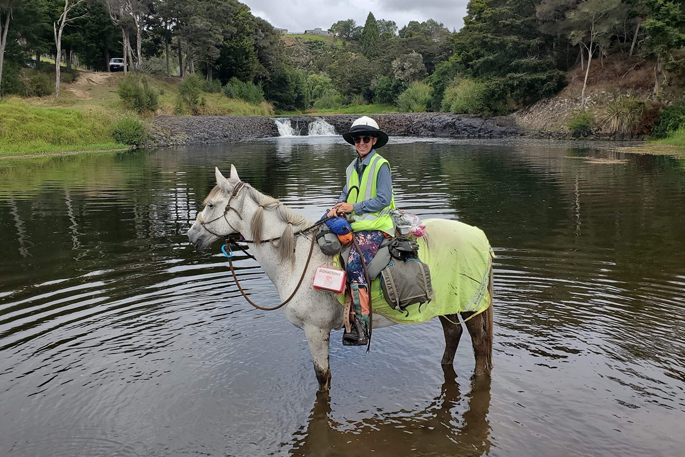 A woman circumnavigating New Zealand on horse-back is passing through the Bay of Plenty.
Larissa Mueller, who averages more than 100 kilometres a week on horseback, is making the journey with the aim to raise $20,000 through a Give a Little page for the Leg-up Trust, an organization who heal people with horses.
She passed through Pikowai yesterday and is on her way to Matata, before she carries on to Whakatane in the coming days. She passed through Papamoa on Tuesday.
Larissa says everyone in Tauranga was really welcoming.
"It was definitely an experience going through Tauranga city".
She travels on her 10-year-old grey station-bred mare Sprite, and they have one day off a week.
She began her journey travelling the circumference of the South Island, before attempting to complete the North Island. She bought a horse especially to make the journey and says it has been the focus of her life for the last eight years.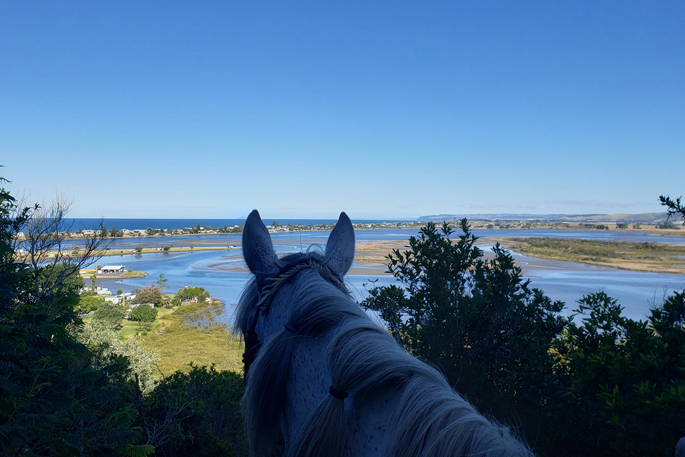 She had the idea of doing a circumference of New Zealand on horseback, but after coming across the Leg-up trust in Hawkes Bay realized it would be a great way to fundraise for them.
She says it's an 'adventure' and estimates she has travelled close to 4000 kilometres this trip, and says she has had five 'near-death experiences'.
"It makes you think twice whether it's worth it."
"There's good days and bad days and easy days and really hard days. Overall, I wouldn't change it for the world."
She says surprisingly these were all thanks to the environment, such as getting stuck on beaches with the tide coming in, rather than with the public such as close calls with cars.
But there have been memorable moments too.
"I saw swans surfing in the waves. That was cool."
She says the two highlights have been the welcoming people she meets along the way and the areas she can access.
"I've discovered some really neat pieces of coast that I didn't know existed and I've been able to go to some really remote places that most people don't get to go to."
She says she gets bored a lot more often than people think, as she only has her horse to talk to most days.
But for Sprite it is 'close to natural' as in the wild horses naturally walk 20-30 kilometres a day and eat on various grasses along the way.
"It's like a big grass tour for her."
She finds places to stay by word of mouth, and from people contacting her on her page.
She got the idea eight years ago, when her and her friend Kendall realized they'd never had horses as children.
"It was just a crazy idea."
They spent two years saving up for the horses, buying the gear, learning to ride and preparing for the trip. She rides in the summers and stops in the winters.
Kendall joined for the South Island leg but was unable to join on the north island leg.
There was a two-and-a-half gap after completing the South Island leg, but Larissa continued on completing the north island leg over three summers.
She does about 1500 kilometres each summer, averaging 100 kilometres a week.
She says she also wishes more people would wear high-vis when running or cycling on the road, otherwise it's just a 'death wish'.
She will finish the journey 'exactly where she started' at Clifton, near Cape Kidnappers, and aims to be there 6- 8 weeks from now.
More on SunLive...