Anticyclone pushes southeasterlies up NZ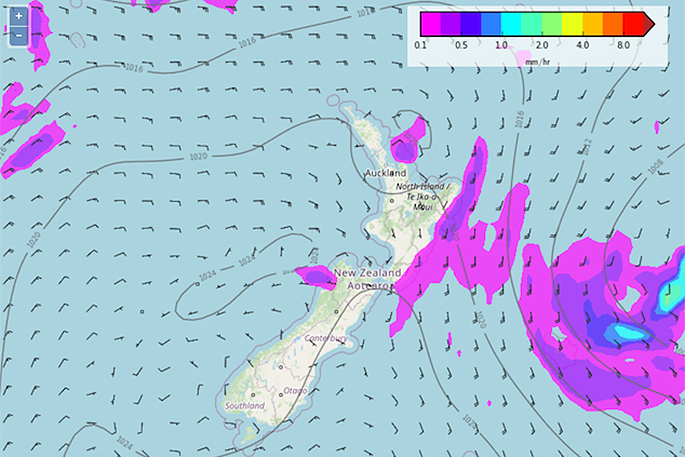 A south to southeasterly airflow lies over New Zealand today, moving around a large high centred to the southeast of the South Island.
A few showers can be expected for the eastern North Island today, also Bay Of Plenty, Waikato, Auckland and Northland for a time (especially in the east), predicts WeatherWatch.co.nz
"The South Island is quite dry apart from Buller which sees a few showers the result of a small convergence.
"Temperatures about eastern regions are a little cool today especially right on the coast, western regions will be warmer.
"Inland spots especially about Central Otago and the Waikato are the warmest today getting into the mid to late twenties.
"South to southeasterly winds are a bit breezy about coastal Hawke's Bay / Gisborne, also southern Taranaki right on the coast."

Northland, Auckland, Waikato & Bay Of Plenty
Areas of cloud and occasional sun, chance of a shower about western BOP and Coromandel in the morning then about northern Auckland through to Northland afternoon / evening especially in the east. Light winds then afternoon sea breezes.
Highs: 22-27

Western North Island (including Central North Island)
Mostly sunny, some cloud towards the eastern ranges. Southeasterly winds, fresh about the southern Taranaki coast.
Highs: 20-24

Eastern North Island
Mostly cloudy with occasional showers, breezy cool southerlies.
Highs: 18-21

Wellington
Cloudy areas, chance of a shower from afternoon. Southerly winds, brisk through Cook Strait.
High: 16-18

Marlborough & Nelson
Any morning cloud breaks then mostly sunny, cloud moves back in later in the evening or overnight. Afternoon easterlies for Marlborough, northerlies in Nelson.
Highs: 19-22

Canterbury
Any morning cloud breaks then mostly sunny, some high cloud from afternoon. Lower level cloud may move back in again in the evening. Afternoon east to northeast winds.
Highs: 18-23

West Coast
A mix of sun and cloud with light winds tending west to northwest in the afternoon, about Buller skies may be a little cloudier with the chance of a shower.
Highs: 20-24

Southland & Otago
Mostly sunny with some high cloud developing, there may be some morning cloud for coastal Otago. Easterly quarter winds.
Highs: 17-25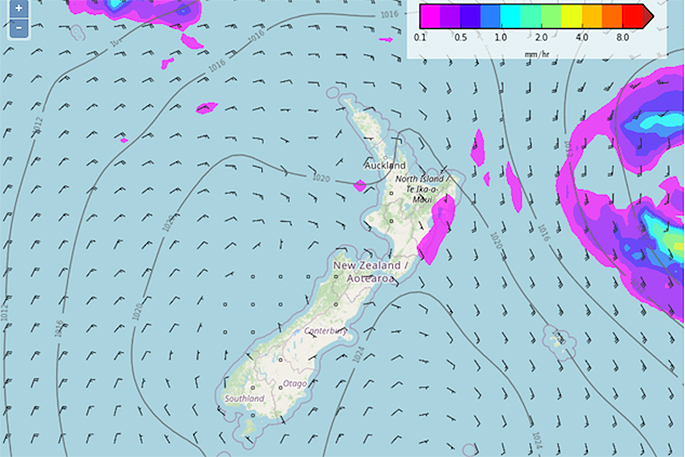 MSLP / Rain map 1pm Saturday.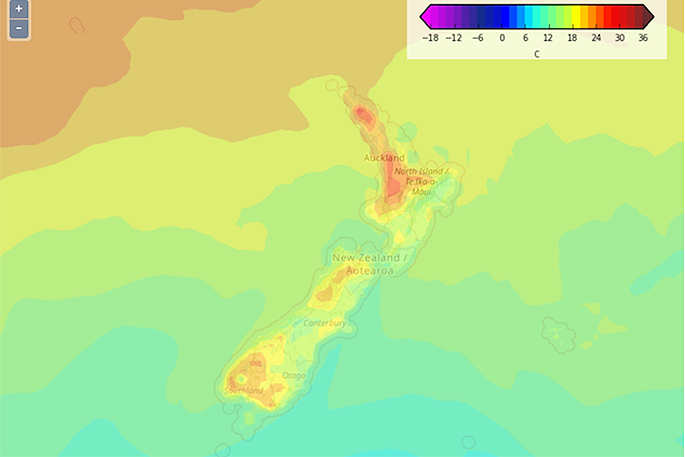 Temperature map 1pm Friday.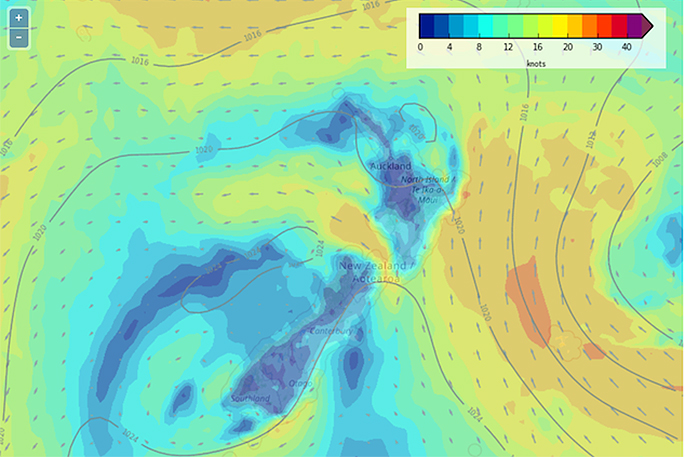 Wind map 1pm Friday.
More on SunLive...