Govt to abolish local veto on council Maori wards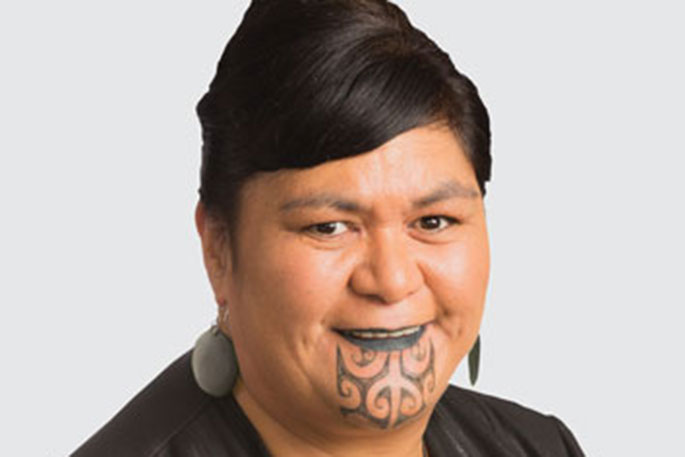 The government will introduce legislation to uphold council decisions to establish Māori wards Local Government Minister Nanaia Mahuta has announced.
The first stage of the legislative reform will include immediate changes to establish transitional measures making the establishment of Māori wards easier ahead of the 2022 local elections.
This could mean the petition against the establishment of a Maori Ward in Tauranga calling for a referendum on the issue will no longer be upheld.
On Friday hundreds of people attended a public meeting discussing the issue with people both for and against the establishment of a ward.
The meeting was organised by a group called Concerned Citizens, which recently submitted the petition.
Protesters standing with signs and Maori flags filled the back of the TYPBC club room, behind rows of seats filled to the brim with other meeting attendees.
Speakers included former New Conservative party member Elliot Ikilei, and Hobson's pledge members Don Brash and Casey Costello.
They argued their views are in favour of equality and Maori bettering themselves.
Arguments for Maori Wards, and against the petition followed from iwi leader Buddy Mikaere and one other speaker.
Buddy says the fact that no other ward has gone through the same process or scrutiny proves that racism is fuelling the petition.
Tauranga City Council voted to establish a Maori ward in the 2022 local government elections in August last year.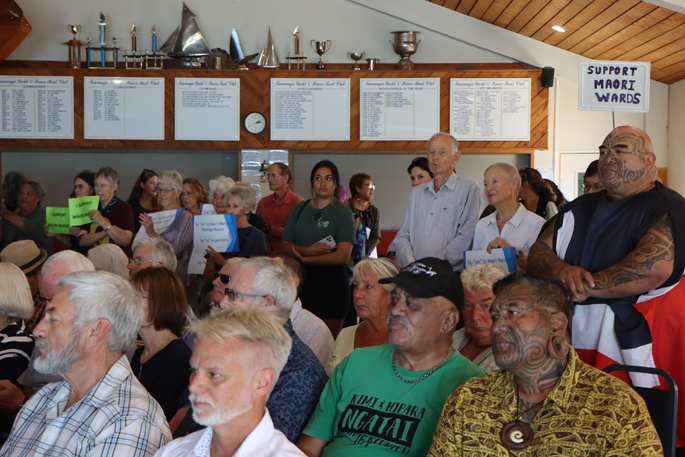 People at the meeting on Friday. Image: Mackenzie Dyer/SunLive.
Mahuta made the announcement about the legislation in New Plymouth today. She says the current system had a different set of rules for establishing Māori and general wards and that councils had asked for a law change.
The current law allows the decision of an elected council to introduce a Māori ward to be overturned by a local poll. Just 5 per cent of support is needed for a poll to be demanded.
Mahuta says the rules needed to change.
"The process of establishing a ward should be the same for both Māori and general wards. These are decisions for democratically-elected councils, who are accountable to the public every three years.
"Polls have proven to be an almost insurmountable barrier to councils trying to improve the democratic representation of Māori interests. This process is fundamentally unfair to Māori."
Legislative reform to Māori wards processes would be progressed in two stages over the next three years.
The second stage would develop a permanent mechanism for local authorities to consider the establishment of Māori wards and constituencies.
Mahuta says increasing Māori representation will be a good thing.
"Increasing Māori representation is essential to ensuring equity in representation and to provide a Māori voice in local decision making. It will also lead to greater Māori participation in the resource management process.
"We know the importance of diversity around the council table and, as part of the government's commitment to working to honour Te Tiriti o Waitangi, we need to do our part to enable councils to achieve fair representation. Like in Parliamentary elections, specific Māori seats can assist with this.
"Māori and non-Māori across New Zealand have been calling for these changes for some time, including the recent presentation of two petitions with more than 11,000 signatures to Parliament."
On 4 December a petition was delivered to MPs urging them to get rid of legislation that enabled referenda on Māori wards.
ActionStation collected more than 10,000 signatures calling for Parliament to make the process of establishing Māori wards for district and regional councils the same as the process for establishing general wards.
The new legislation will also extend the deadline for councils to consider Māori wards to 21 May 2021, providing them with a fresh opportunity to make decisions on Māori representation at the 2022 local elections.
Background:
Since 2002, 24 councils have attempted to establish Māori wards using the process under the Local Electoral Act 2001 and only two have been successful so far

Nine councils have decided to establish Māori wards for the 2022 local elections, joining three councils who established these at earlier elections. The government will support these councils' decisions to improve Māori representation
Additional reporting RNZ.
More on SunLive...