Awards connect BOP farmers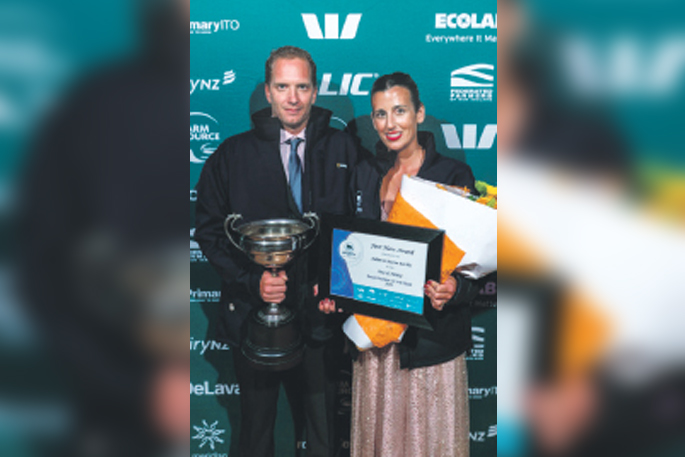 Galatea farmer Adam Barkla describes entering the New Zealand Dairy Industry Awards as "a massive undertaking that is absolutely worth it".
Adam and his wife, Maria Barkla, run an 1800 cow dairy operation across three properties in Galatea. The couple won Share Farmer of the Year 2020 for the Bay of Plenty region, as well as the Federated Farmers Leadership Award at the national competition.
"Last year was the second time we entered, and this year we're Share Farmer team leaders for the BOP region," says Adam.
"The highlight for us is getting to connect with others. It's an awesome opportunity to go over your business and benchmark yourself against others in order to develop."
Passing the baton
The 2021 competition has officially kicked off; regional entrants are locked in and the first round of judging, which will determine each region's top five finalists in each category, is on February 2-4.
The three categories are Share Farmer, Dairy Manager and Trainee of the Year.
It's usual passage for previous winners to take on NZDIA leadership roles, which made it a no brainer for Adam and Maria.
They're looking after the BOP's eight Share Farmer entrants as they prepare for the judging stages, where all aspects of business, from finances to human resources, will be assessed.
"While the competition is fierce, entrants do keep in touch and support each other along the way.
"It's not all about winning – just participating in the awards is an incredibly valuable networking experience."
Adam's advice to entrants? Start early.
"It's that old saying: how do you eat an elephant? One bite at a time."
Local backing
Adam hopes the competition can proceed as normal this year, free from the effect of COVID-19.
"When we entered, our final round of judging was smack in the middle of lockdown so we ended up being interviewed on Zoom, which was very odd.
"Normally the judges come to the farm for a few hours – showing your passion for your business is much easier on the farm than in the office."
For the first time, the national awards dinner in July 2020 was televised, so entrants could watch safely from home on Country TV. It hasn't been confirmed whether this will be adopted again for the 2021 competition.
Despite the challenges of 2020, Adam says the NZDIA 2021 has great backing.
"People throughout the region have shown tremendous support for the awards this year, from sponsoring businesses, the BOP farming community, and of course, the entrants themselves.
"Entering is a big job, and I take my hat off to anyone who is up for the challenge."
More on SunLive...