Learning about the Battle of Gate Pa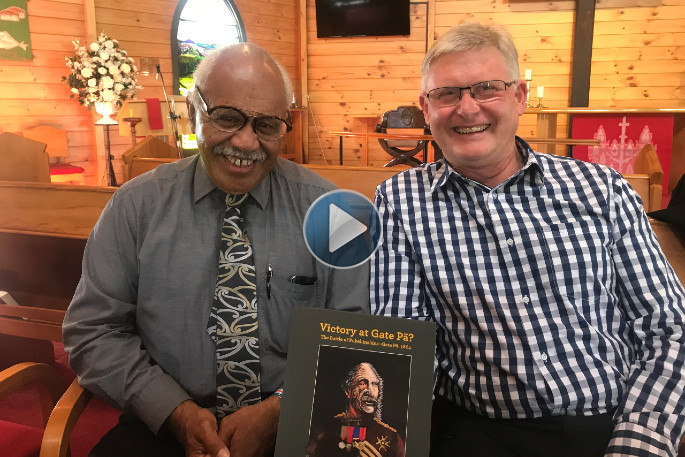 The second in a series of informative talks about the early days of Tauranga will be held this evening in Gate Pa.
The Battle of Pukehinahina - Gate Pa - in 1864 is one of the most significant events in the history of the city.
Historians Buddy Mikaere and Lt Col Dr Cliff Simons will explore why this battle happened, what happened during and after the battle and its importance for Tauranga today.
St. George's Anglican Church in Gate Pa sits on the site of the Battle of Pukehinahina and was packed last Sunday as people gathered to hear the first talk in the series from Cliff who outlined the story of the early Christian missionaries who made Tauranga their home.
"Each year we offer free lectures to help the community understand our city's history and how it shapes our present," says the church's vicar, Rev. John Hebenton.
Cliff is a well-known historian, speaker and author who specialises in New Zealand's colonial and military history. He recently released the book 'Soldiers, Scouts and Spies, a military history of the New Zealand Wars 1845-1864'.
Buddy is a former director of the Waitangi Tribunal and is a consultant, author and historian. Buddy and Cliff are the co-authors of the book: 'Victory at Gate Pā?' and will offer both their up-to-date research done for their book published in October 2018, and the work they have done since for the reprint.
Tonight, Sunday January 31, at 7pm, Buddy and Cliff will co-present a lecture on 'The Battle of Pukehinahina – Gate Pa.
"St George's Church operates with the kaupapa of – 'let everyone who enters here be reconciled'," says John. "There will be an opportunity for questions and discussion at the end of each lecture."
A koha – donations – will be collected at the door to help cover the costs.
For more information please contact Rev. John Hebenton on: John.Hebentontssf@gmail.com or go to the website: www.stgeorgesgatepa.com

More on SunLive...