No new community cases of COVID-19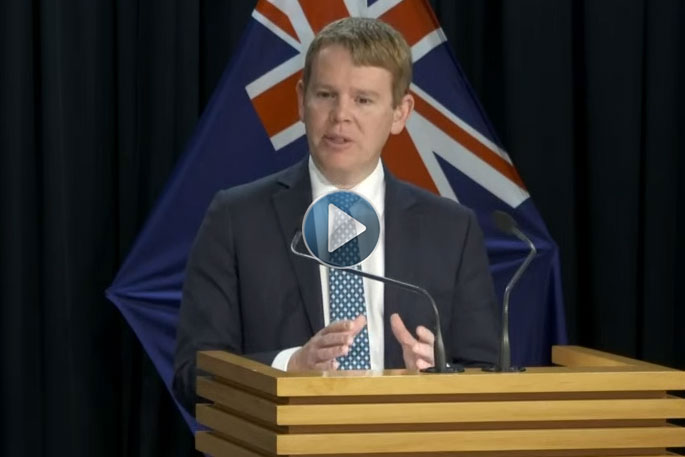 There have been no new community cases of COVID-19 reported in New Zealand today, but there are two more possible cases at the Pullman Hotel.
COVID-19 Response Minister Chris Hipkins and Director General of Health Dr Ashley Bloomfield have provided an update on the situation in Auckland on the eve of the region's anniversary weekend.
Hipkins says the lack of any new community cases meant there was no reason why any travel plans should change over the long weekend.
"The level of community testing with no new positive results in the community, so far, does provide reassurance at this point that people thinking about whether they or not they should be travelling in or around Auckland or Northland around the long weekend can do so."
But Hipkins reiterated that people should be following the essential level 1 public health advice.
Dr Bloomfield urged people to continue using the Covid Tracer App and stay home if sick.
There have been 38,000 Covid-19 tests processed in the past week and that nearly 2 percent of Northland's population had been tested for COVID-19.
There were no new cases of COVID-19 reported on Thursday, following the confirmation of two cases - a father and daughter - in Auckland on Wednesday. The other case, a 56-year-old Northland woman who tested positive on January 26, was classified as recovered on Thursday.
Dr Bloomfield says the Northland case reported on Sunday has recovered. Their 11 close contacts have returned negative tests and their are no further exposure being identified at this safe, he says.
The close contacts who have come to the end of their isolation period will start being released from today.
The three cases were all contracted from a case in the Pullman Hotel, a managed isolation facility, in central Auckland. The case source was sent to a quarantine facility when they tested positive in the Pullman.
Of the 353 guests who left the Pullman Hotel during the targeted timeframe, 314 have returned negative tests. Health officials are following up the with remaining guests.
Hipkins says ESR staff were doing environmental testing to assist the investigation into how the infection was transferred between guests. They have been on site all day and preliminary results from that should be available this evening or early tomorrow morning.
"We absolutely need to know exactly what might have been happening at the Pullman and what we might need to change."
He says a number of changes have been made over the past month to managed isolation procedures and to procedures around incoming arrivals.
"And from tomorrow, all returnees will need to stay in their rooms after their day 12 test prior to their departure - that's an interim step while we continue to investigate what happened at the Pullman."
Earlier: The Minister for COVID-19 Response Chris Hipkins and Director-General of Health Dr Ashley Bloomfield will provide an update on COVID-19.
They will be live from 1pm.
Whole genome sequencing carried out confirmed the two border-related COVID-19 cases that were reported out of cycle, are the strain first identified in South Africa.
The Ministry of Health says it appears these cases have a link to the managed isolation facility at the Pullman Hotel.
The two latest cases have now been transferred to a quarantine facility in Auckland, separate from the Pullman.
A third family member, who has returned negative COVID-19 tests, is currently isolating at home.
"Eight locations of interest have been identified in relation to the two latest cases and are listed on our website here.
"From information available so far, we have identified 11 close contacts - all of whom are isolating and have had their first test. Five results have come back negative, and the results of the remainder are still to come back," says the Ministry of Health.
Yesterday there were also three new border cases of COVID-19 at the border - all have been transferred to a quarantine facility.
More on SunLive...