Long weekend warning to new boaties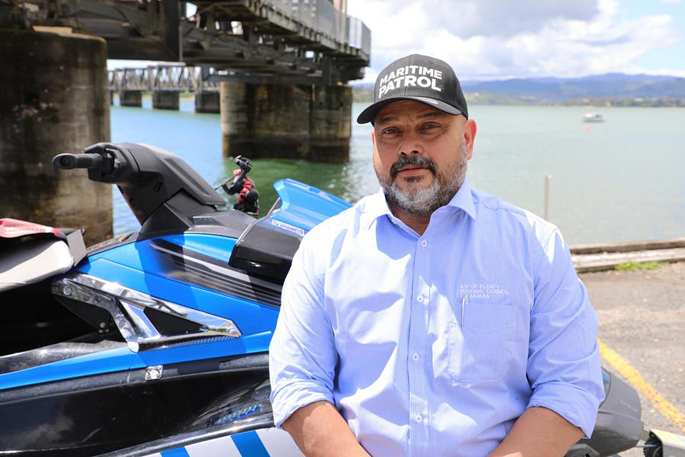 It has been a long, hot summer and more boats and jetskis are on the water in the Bay of Plenty this year than previous holiday periods.
With the long weekend looming, Bay of Plenty Harbourmaster Jon Jon Peters is asking boaties to stay safe and make sure they know local conditions before hitting the water.
"It's great to see so many people making the most of our corner of paradise here in the Bay of Plenty – we are so fortunate to be able to get out on the water in this maritime playground," says Jon Jon.
"The combination of a long weekend, fine weather, closed national boarders and some increasingly popular boating spots, means my team are set for a very busy few days!
"So as people gear up for a weekend on the water, I just ask that everyone stays safe and plans ahead. Particularly if you are visiting the area or are new to boating or have a new vessel.
"This summer we have seen a lot more people new to boating and jetskiing and some haven't got their heads around their craft and the rules as well as they should have. Being a skipper is a big responsibility so I really encourage people to read through the Safer Boating Guide and do a day course through the Coastguard – it could save lives.
"If you are visiting the area, talk to a local if you can or get in touch with the local Coastguard to make sure you know about any particular issues – bar crossings, boat ramps, hazards or rules. There are some tricky stretches of water in our rohe and it's best to be prepared."
Jon Jon says there is a particular focus on the area around the Kaituna River mouth this summer as boating traffic has increased markedly, likely from a lot of people redirecting international travel savings into watercraft.
The Kaituna River mouth is particularly tricky with variable speed areas, swimming and diving spots and limited visibility corners.
"Bay of Plenty Regional Council recently received additional funding of $8,000 from Maritime NZ to increase patrols around the Kaituna area because of this boom in popularity.
"So this weekend we will be out and about, educating and reminding boaties of the risks and the rules. Keep safe, wear a lifejacket and take your role as a skipper seriously. Then we can all enjoy a summer long weekend safely," says Jon Jon.
More on SunLive...