Diver urged to remove footage of waterfall jump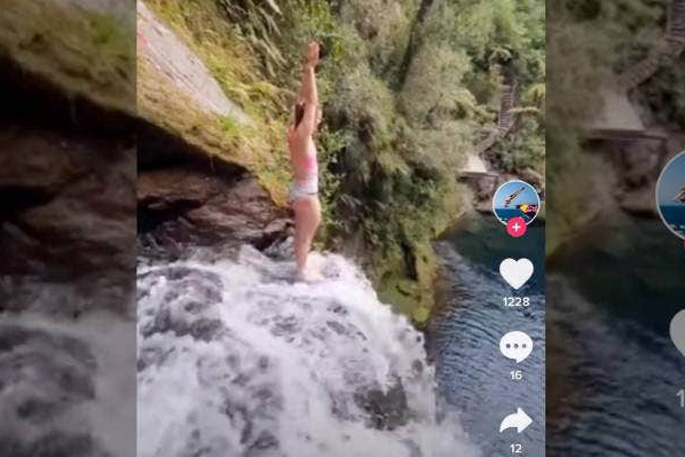 A Red Bull cliff diver has posted footage on social media of a daring jump off a dangerous and closed waterfall near Tauranga. Now, officials want it deleted, saying it could encourage risky behaviour.
Omanawa Falls has long been closed – with several no entry signs – because the steep and dangerous track poses a serious risk of injury.
In early January a man died after he got into trouble. It's not yet clear if the incident was on the track, or in the water. Another man drowned in 2018, and an increasing number have needed rescue.
The social media popularity of the falls has been blamed for the increased crowds – despite it being closed. One of the most high profile posters has been Red Bull cliff diver Iris Schmidbauer.
In September last year, the German high diver posted a video to her 288,000 Tiktok followers jumping off the falls. It started with her at the top of the waterfall in a strong current, with a spectator filming her.
She then proceeds to somersault off the top. A second angle of the jump, looking up from the bottom, shows the photographer leaning over the side, hanging onto a rope while he films the jump.
According to a recent 1 News profile, Schmidbauer arrived in New Zealand before the Covid-19 lockdown and has been stuck here ever since.
The article explains her love for New Zealand, "It's just a chilled vibe. I feel connected to nature, I can find some cliffs to dive off as well – it's just a great country."
It also reports the 25-year-old wants to stay in New Zealand longer and is applying for a talent visa.
The Tauranga City Council, who administers the waterfall, is not impressed.
"Regardless of who you are, there is no public access to the Omanawa Falls. If you choose to visit the Omanawa Falls you risk your life and those of the people who may be required to rescue you," says Paul Dunphy, the council's director of spaces and places.
Paul says he's concerned social media posts like this may encourage others to access the falls.
"We've had two fatalities and multiple injuries at this location. It doesn't get more serious than this."
He added that the video should be removed, "we believe it would be the responsible thing to do."
Schmidbauer has not responded to multiple requests for comment. Red Bull also refused to comment, saying she was not a paid member of the Red Bull team – although it did confirm she was part of the Red Bluff Cliff Diving circuit.
More on SunLive...