Team NZ to help American Magic rebuild Patriot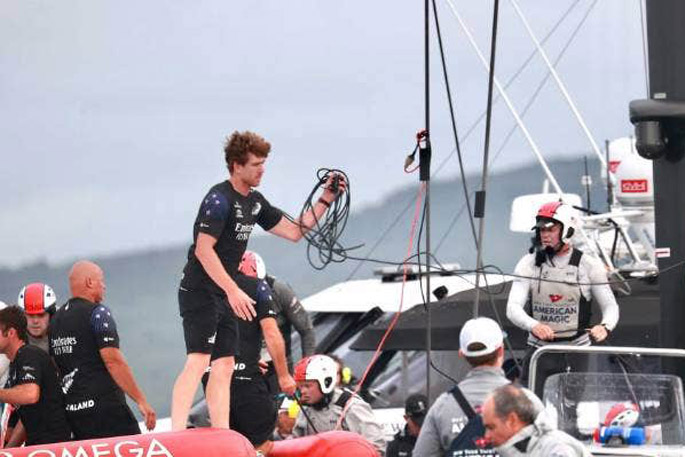 Team New Zealand will join the huge job of getting American Magic's damaged boat back into action.
Patriot has a massive hole in the hull to be fixed and will need a total electrical rebuild to be ready for the Prada Cup semifinal repechage that starts on January 29. The damage came after a high-speed capsize in Auckland last Sunday.
Skipper and CEO Terry Hutchinson confirmed American Magic would not contest the rest of the round-robin series to be sailed this week but believes the boat can be ready for the following weekend which will be the start of a best of seven series against the second-placed boat.
Getting Patriot fixed will be a collective effort with Terry praising the way the Auckland maritime industry and their Cup rivals, including defender Emirates Team New Zealand, had instantly offered their services.
"They are winding down a certain portion of their programme so there are a lot of people available to help us out and straight away they (Team New Zealand) put us in contact.
"I think Dalts' quote was 'whatever you need we have it for you'."
In the public eye, the America's Cup is known for its wrangles more than its camaraderie, but the events of the past 24 hours, when teams instantly sent their chase boats to help prevent Patriot from sinking, have reinforced to Terry the special qualities of the Cup community.
"We have had great support from all the teams … everybody has offered up their services to get Patriot back on the water.
"As competitors, the majority of the time we argue with each other about things that are just about racing sail boats, we argue to get our points across.
"But today you couldn't come across more sportsmanship or more generous teams we have around us.
"With all the sincerity in the world they extended pretty much all the facilities for us to use to rebuild Patriot."
More on SunLive...