A new way forward for Tauranga businesses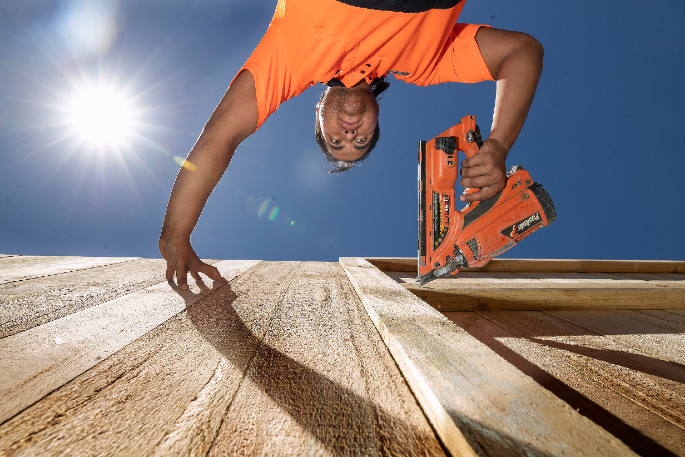 Two Tauranga businesses are ensuring the future of their industries by investing in their young employees.
At Edge Retaining and Landscaping the owners take a collaborative approach and everyone is a mate rather than an employee, says co-owner Matt Du Plessis.
They give young people an opportunity rather the 'old school' way of treating them mean and giving them the lackey jobs, he says.
With the government providing free apprenticeships for trades they have five team members doing landscaping apprenticeships.
Four of them have been working with the company for a while and were encouraged to take advantage of the funding to get a qualification.
New recruit Hamehana Walters lights up when he talks about his new job and the apprenticeship.
The company is "mean" to work for, the work is varied and having an understanding of what's required for the apprenticeship makes it doable, he says.
Hamehana got the job through doing the Imagine Believe Achieve pre-employment programme that teaches young people the skills and values needed for work and study.
Prior to the course, Hamehana had a casual job at a rest home and was "was bouncing up and down between angry and sad".
Now he is setting goals and can see a future beyond the "bottom of the barrel" jobs he had been doing.
"I've never thought more than five years ahead."
The 22-year-old has gone from being quite shy to confident, motivated and he has learnt resilience.
"You go through hard times, but if you can come out with a smile on your face, obviously you're doing good."
Matt says they partnered with IBA because he heard how a lot of the attendees fall out of jobs easily and thought the business' attitude of mutual respect would suit them.
"It works for us better. If you respect them, they respect us and they work harder for you."
iLine Construction has a work experience programme for IBA attendees that can progress to an apprenticeship or cadetship.
Construction director Elton Verran says having on-site work experience shows the young people the different options available to them in their business and the construction sector.
"By doing the [IBA] programme, they're going to get a realistic idea of what employment looks like and what it takes to be employable."
The guys that have done work experience so far have been respectful, happy to be there and ready to impress, says Elton.
iLine and Edge Retaining and Landscaping are two of about 20 businesses that are working with IBA.
IBA general manager Rebecca Roe says they couldn't run the programme without the support of the employers.
"We like to celebrate our employers and recognise them in terms of the great stuff that they're doing in the community."
More on SunLive...