100 years and all that jazz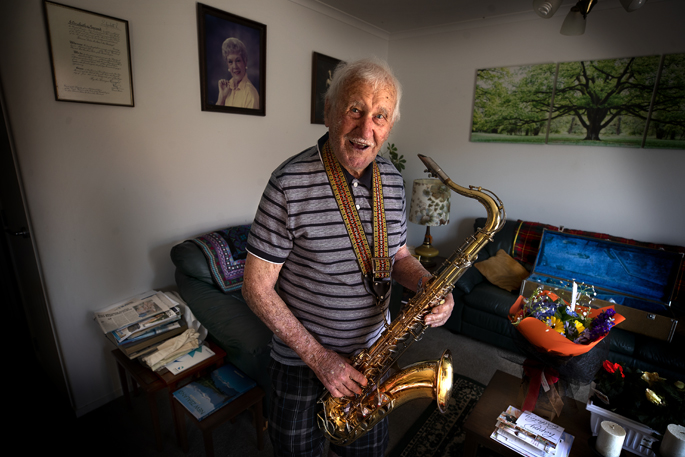 Tauranga Big Band will be celebrating Niel Randrup's 100th birthday with a special afternoon concert this month.
The spry centenarian passed the monumental milestone on New Year's Day.
"I was the first New Zealand baby born in 1921," says Niel. "Just after midnight. Well that's what my parents told me."
An original member of the touring Kiwi Concert Party that travelled in Australia for eight years, Niel was a well-respected bandleader, musician and arranger, and played saxophone in Nat King Cole's band when Nat came to New Zealand in 1955.
"I was one of the Auckland musicians. Every three months or so a new leader was offered the job of presenting his brand of music on 1YA."
The radio station had a regular weekly feature showcasing big bands which were popular after the war years.
"Auckland did their best to emulate those big band sounds, following in the standard set by American musicians. They selected musicians from the 1YA dance band for Nat King Cole's band."
Niel married legendary Auckland singer and dancer Pat McMinn in 1969. Pat was probably New Zealand's busiest vocalist in the early 1950s, in concert and on recordings, having been in constant demand since winning the Dixieland cabaret's talent quest in 1942, aged 15. Her voice and personality were perfect for early 1950s pop, and her biggest hit 'Opo the Crazy Dolphin', written by jazz pianist Crombie Murdoch in 1956, was a jaunty tribute to the friendly dolphin that visited Opononi harbour.
The couple shifted from Auckland to Tauranga in 1987. Pat took up teaching dance again after finding that the city had no tap teacher. She passed away in 2018 aged 91.
"Pat and I thought we'd retire when we came here, but Tauranga mothers rubbed their hands with glee as they didn't have to take their children to Auckland for lessons with Pat," says Niel.
"I got to know some guys here and when the time came I was invited to join the Tauranga Big Band which I did."
A big band is a type of musical ensemble of jazz music that usually consists of ten or more musicians with four sections: saxophones, trumpets, trombones, and a rhythm section. Not only did Niel play saxophone, but he went on to be the musical director, arranging much of the music.
"It was a very happy band and we had a happy time," says Niel.
"We've selected a lot of Niel's music that he arranged for the band and some of his favourites too for the concert," says current Tauranga Big Band musical director Joe Thomas.
The 90-minute concert will be held at the Salvation Army Theatre on Cameron Rd at 3pm on Saturday, January 23, followed by afternoon tea. Entry is free and the theatre holds 150 people.
Niel is looking forward to it.
"I enjoyed playing and writing arrangements for the big band. In short I was a happy musician."
More on SunLive...