What's on Today: 3x3 FIBA Quest Tour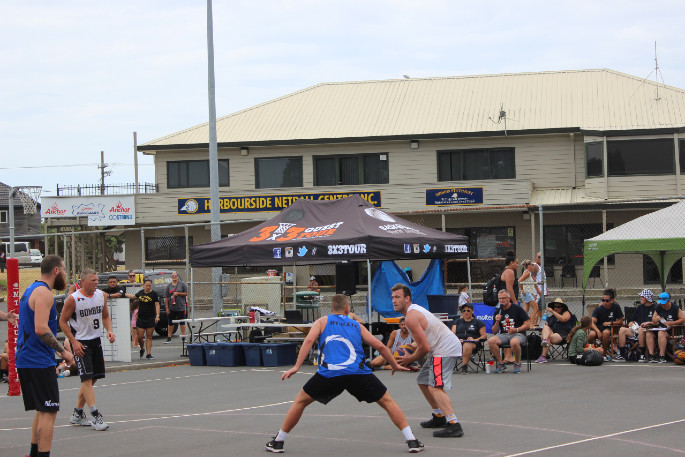 A fast-paced entertaining version of basketball is heading to Mount Maunganui with, hopefully, some potential Olympic stars of the future involved.
The 3x3 FIBA Quest Tour stops off in the Mount on January 16, 2021 and if previous events are anything to go by it should be a special occasion.
The 2020 event had nearly 40 teams over 90 games and 130 players attracting people from Tauranga, Rotorua and Waikato.
The men's event last year was won by RSB, which included Otumoetai College alumni and Commonwealth Games bronze medallist, Derone Raukawa.
David Huxford is the 3x3 and national events manager at Basketball New Zealand and he expects there to be some national team representation at this year's event.
"At least at every event we get someone who has played for the Tall Blacks. We do get Tall Ferns playing as well."
The event has been staged in the Tauranga area for seven years now and will return to the Harbourside Netball Centre in 2021. As Huxford explains, it is the perfect location, with the event expected to draw an impressive attendance once again.
"It's always been going there. It's quite a popular spot as it attracts people from Waikato and Rotorua as well. We've always had good weather there so we've never had to go inside.
"It's one of those where people pop up and make a day of it."
Anyone who does drop by will be in for a fast-paced treat. The 3x3 version of the game is played on a half-court with plenty of action in shorter timeframes.
"We just break it down to the real simple things. It's a lot faster, over and done within 10 minutes. It's all concentrated around the hoop and player-driven with no coaching allowed during the game."
The 3x3 version of Basketball has never been more popular. It will make its Olympic Games debut in Tokyo this summer.
New Zealand may have a team present, as the Men's 3x3 side face a qualifying event in Austria this May.
With categories ranging from under-15s upwards at the Quest Tour event, could we be seeing a potential future Olympic star at the Mount this month?
"Totally," Huxford states. "The quest tour is definitely part of the pathway through to the elite stuff."
All the more reason to come and support this burgeoning new sport this summer.
Check out what else is happening in and around Tauranga below:
Saturday 16 January
$1000 Choral Scholarships Opportunity
Secondary/tertiary students with choral singing experience invited to apply for 2021 $1000 scholarship place with Scholars Baroque Aotearoa Chamber Choir. Info/audition/inquiries: www.scholarsbaroque.com scholars@scholarsbaroque.com
---
Association Croquet
At Club Mt Maunganui, Kawaka St. Mon, Wed, Sat; 9.15am for 9.30am start. Visitors, new players welcome. Ph. Jacqui 07 574 9232
---
Bay Singles Social Club
Join a bunch of over 50 years young singles. Weekend dinners, pot-lucks, occasional outings. Have a go! Ph Delia 0272848762 Andrea 0211330313
---
Beth-El Messianic Family
Celebrate Shabbat the Sabbath (Sat) as Messiah Yeshua (Jesus) & all early believers did. All Welcome 10am Otumoetai Primary Hall. Joel van Ameringen 021768043 www.BethEl.org.nz
---
Car Boot Sale
Greerton Village School 151 Greerton Rd. Ph 577 1116 or 0274 146 040. Single site $5, double $10. Setup 7am onwards.
---
GREERTON HALL MARKET
Second and last Saturday of each month. 8am-12pm. Stalls inside/outside. Discounts for charity groups. Refreshments at kitchen. Phone/txt for site. Tricia 075431487 or 0279082952, www facebook.com/greertonhallmarket
---
GREERTON HALL MARKET
Second and last saturday of each month. 8am-12pm. Stalls inside/outside. Discounts for charity groups. refreshments at kitchen. Phone/txt for site. Tricia 0754341487 or 0279082952. www.facebook.com/greertonhallmarket
---
Meditation On The Beach
Meditation On The Beach Meditate for peace. Follow your own meditation practise surrounded by the tranquil sounds of nature & group energy. 8-9am. Text 0210 274 2502 to confirm & for venue
---
O & The Mo
Concert with smooth vocals, quirky lyricism, wavy guitar melodies, twinkling glockenspiel & awesome rhythm section. 7pm, Jam Factory, Historic Village, 17th Ave. Book @ www.theincubator.co.nz. Ph 07 571 3232
---
Otumoetai Tennis Club
Adult tennis. 1.30 pm. Bellevue Park , Windsor Road (adjacent to swimming pool). New players and visitors welcome. Ph Victor 0275771818 a/hrs.
---
Tauranga Farmers Market
7:45am-12 at Tauranga Primary School. Rain, hail or shine. Direct from the producers, fresh regional produce & artisan foods.
---
The Sociables
A group of males & females in their 30s/40s/50s that meet to participate in events, dining out or bushwalks. Ph 022 012 0376
More on SunLive...