Orca-strated for underwater selfies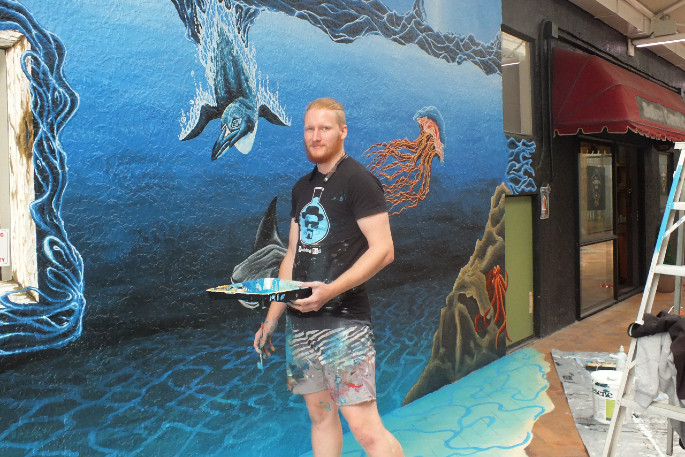 A cheeky octopus with a key trying to get through a nearby door, a little blue penguin diving, a jellyfish, stingray and an orca are all featured in a new marine-themed scene in a Grey Street alleyway.
The mural, painted by Sam Allen, is a refreshing addition to the space and flows from the wall down onto the paving.
It was commissioned by Downtown Tauranga as part of the Activate Vacant Spaces programme of initiatives.
"We asked for creatives to submit their ideas for this project and Sam was the successful artist selected and commissioned to create the mural," says Tuskany CEO Sally Cooke.
"We wanted a theme that celebrates and showcases Tauranga Moana and our respect and kaitiaki of our marine life."
Sam put through his idea as well as a couple of finished pieces that he'd done.
"They wanted something similar, we discussed, I put a concept through and they were happy with that," says Sam.
He has previously painted three community murals including a collaborative one for the Illuminarti festival and one at Otumoetai College, but this is his first solo mural.
"The initial brief was for it to be interactive, so they wanted animals to point towards a focal point where someone could stand and have a photo taken with them, so they are immersed into that environment."
The mural, perfect for selfies, took Sam 80-90 hours over nine days to complete, averaging ten to 12 hours most days. The octopus trying to unlock a nearby door is a subtle addition.
"I always like to add little features that most people won't see," says Sam.
Sam is becoming a well-established artist and is opening a three-week exhibition today at The Incubator, with 25 of his pieces going on show.
"As part of the Activate Vacant Spaces programme we have been activating many 'spaces' around the city with installations, events, exhibitions, retail offerings, performances and indeed art," says Sally.
''And we always saw an opportunity to transform this alleyway into an engaging and visually dynamic alleyway as it is one of the entry points to the city centre for the public.
"It also allows us to, once again, showcase and pay homage to our amazing creative community."
More on SunLive...