Hot, lifting road contributes to SH2 delays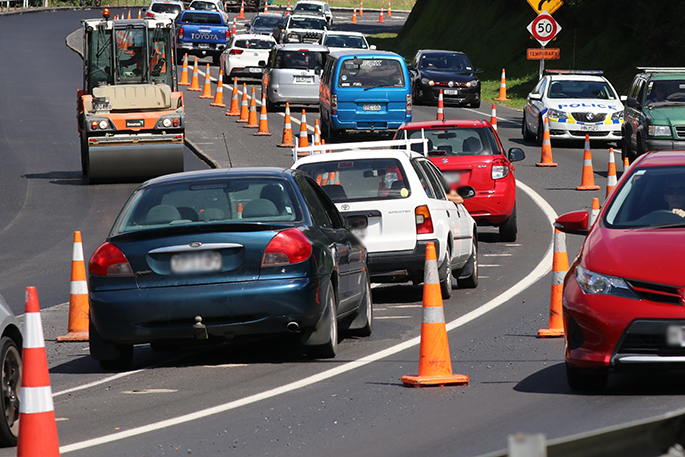 Bitumen coming through a road surface contributed to the significant delays on State Highway 2, says Waka Kotahi NZ Transport Agency.
Motorists took to social media overnight to vent their frustrations with delays on the highway between Te Puna and Athenree Gorge on Wednesday, following resurfacing works on the corridor.
While motorists had been advised to expect delays, a NZTA says yesterday's hold-ups were significantly more than expected.
"Yesterday was hot and there was a considerable amount of bitumen coming through the road surface - known as flushing, which contributed to the delays. Bitumen expands during hot weather, rising above the road surface.
"The heat of engines and tyres moving slowly through the resurfacing sites exacerbates the flushing and can lead to the surface lifting off the road in chunks."
Bay of Plenty System Manager Rob Campbell says Waka Kotahi recognises there is a lot of work happening on this stretch of SH2 at the moment, with the Waihi to Omokoroa safety improvement project works having restarted after the Christmas holiday break as well.
"Our contractors are doing what they can to minimise delays. Motorists are likely to continue to experience delays during these works. However, we are hopeful it won't be anything like yesterday.
"The warmer spring and summer months are the best time for resurfacing as daylight hours are longer and the warm temperatures and dry air help the new seal stick to the road surface.
"Where possible, we are undertaking work at night. However, for a period of 24-48 hours after the sealing, before it's swept, the site needs to operate under a reduced temporary speed limit while we allow vehicles to travel over the seal and help to bed in the chip.
"Following this, the site is swept, excess chip is removed and the temporary speed limit remains in place until line marking has been reinstated. This is normally within 48 hours of the site being sealed, weather dependent.
"We are working hard to get this work completed while there is less traffic on the roads, before school starts back and ahead of the busy kiwifruit season."
These works are scheduled to be completed by January 26.
Motorists are advised to plan ahead using the Waka Kotahi Journey Planner website (journeys.nzta.govt.nz) or Google Maps for real-time information on travel times and delays, consider the State Highway 29 alternative route over the Kaimai Range, avoid unnecessary travel and time their travel for outside peak times, where possible.
"Motorists considering travelling via State Highway 29 over the Kaimai Range should be aware of significant road reconstruction work on a section of the east-bound Crawler Lane between the SH29 and State Highway 28 intersection and the Swap Kaimai Farm entrance, on the western (Waikato) side of the Range from the night of Sunday, January 17.
"This coincides with the last of the overnight resurfacing works between Athenree Gorge and Katikati. Daytime resurfacing works will continue through until Tuesday, January 26."
People are encouraged to report bitumen flushing to Waka Kotahi using the 0800 4 HIGHWAYS phone number.
Contractors can then consider options such as using water tankers to cool the surface, or laying a fine layer of chip, to mitigate the impacts.
"Waka Kotahi thanks motorists for their patience."
Plan ahead for a safe, enjoyable journey this summer. Keep up to date with:
Phone: 0800 4 HIGHWAYS (0800 44 44 49)
More on SunLive...