Mount surfer makes National Championship finals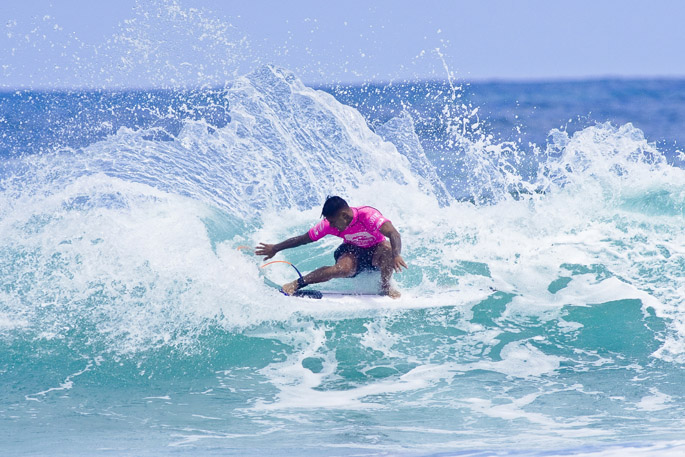 Eight semifinalists have been locked in after an "explosive" quarterfinal round of action yesterday at the Surfing NZ National Champs.
The exceptional results were punctuated by stellar performances from Mount Maunganui's Kehu Butler and Raglan's Billy Stairmand.

The 2021 National Championships are being held at Piha Beach, Auckland from January 10 to January 16.
On Tuesday, participants enjoyed the cleanest conditions of the event with light winds and a clean 1.0m – 1.5m swell and afternoon sea breezes.

Butler set the tone early with his 14.35 point heat total after blitzing the right-handers on offer in the middle of the beach.

"Waves are really fun with that tide going out, left and right options, so it has been fun today," says Butler who is usually overseas at this time of the year.

"It is real different being here at this time of the year but it is good to be back, I am stoked to have fun waves, warm water and heaps of people on the beach to check out the action, it's a cool event and I am stoked to be back in it."

The Open Men's Division will not surf again until Saturday with Butler looking to catch up with friends and make the most of the good conditions over the next three days before he competes again.
He advanced alongside Connor McLennan (Chch) who has quietly progressed through the field to the final day.

Number one seed Billy Stairmand put aside his performance from day two to nail the highest heat score of the round (16.5 points) and highest single wave score of the event – a 9.0 point ride.
Stairmand advanced alongside local surfer Dune Kennings who showed his knowledge of the break to lock in a semi-finals berth.

At two different ends of the spectrum amongst the top eight are Tairua's Sean Peggs and Raglan's Jayden Willoughby, who both won their heats to advance.
Peggs has been absent from competition for several years but his reasons for attending were two-fold.

"I am over 30 now so I get a couple of divisions," Peggs cheekily exclaimed about being eligible for the senior divisions.
"More to the point, I am actually here because I have been coaching some of the young Tairua groms recently and pretty much wanted to come here and show them how to surf a heat so hopefully I have done that. Tuesday's performance is the first step done, I am super stoked to make it to the finals day. I just want to keep the young guys honest from here on in, I want to make them earn this national title. I want to post some more good scores on Saturday myself and see what happens."

Jayden Willoughby is nearly half Peggs' age at 16 but that didn't stop him from dominating his match up from start to finish with a 13.75 point heat total.

"I got heaps of confidence from that wave I got straight away, it was in the first minute and it got me into a good rhythm," says Willoughby.
"It will be cool to surf against all of the older guys on the finals day and see how I go."

Willoughby will face off against Peggs as well as Taylor Hutchison (Rag) and Daniel Farr (Tara), who also advanced through their heats on Tuesday.


More on SunLive...