Record number of McLaren race cars at Historic GP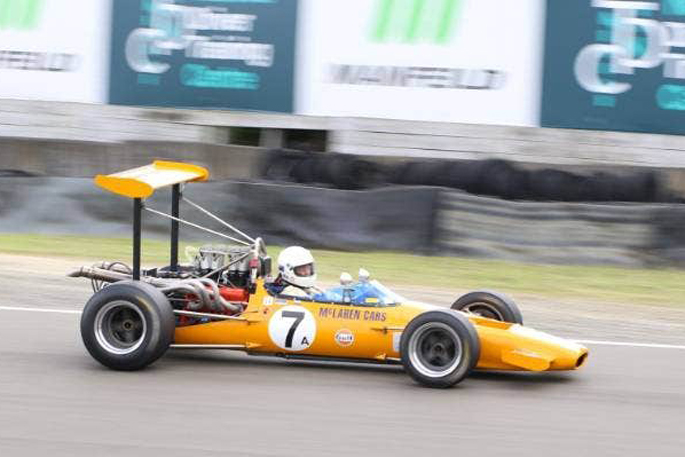 While the Taupō Historic GP this year celebrates Ford, a record number of cars bearing the name of New Zealand motor racing great Bruce McLaren will line up on the grid.
The annual event at Taupō's Bruce McLaren Motorsport Park, on January 23 and 24, is the second round of this season's SAS Autoparts MSC NZ F5000 Tasman Cup Revival Series.
Though best known for the F1 team which still bears his name, Auckland-born driver, car constructor and team owner, McLaren, also had a major hand in the design and testing of a line of early production McLaren Formula 5000 single-seaters, starting with the M10A, then M10B.
Both were highly successful models, as racing car historian Allen Brown notes.
"McLaren were one of the dominant forces in the early history of Formula 5000," Brown says.
"Their first F5000 car, the M10A, won the opening series in Europe, in 1969, and they repeated the feat in 1970 with Peter Gethin, this time in an M10B."
McLaren M10Bs also won the 1970 and 1971 US championships and the 1971 Tasman Series.
Making the Taupō event special for Napier's Tony Roberts, one of those largely responsible for the renaissance of McLaren racing cars, is that for the first time in the 18-year history of the current series there will be five McLarens on the entry list: two M10As, two M10Bs and the later M22 of Feilding's Tim Rush.
"Which I for one think is pretty special," said Roberts, who will be back at the wheel of his distinctive 'high-wing' McLaren M10A 300-09 (A) at the meeting.
"Back when these cars were new there were only four on the grid at the NZGP meeting in January 1970 and even a year later when Graham McRae won the Tasman Series outright in an M10B there were only seven McLarens in the field, so to have five entered 50 years later makes me feel particularly proud to have played some small part in the process of keeping Bruce's fantastic legacy alive."
Joining Roberts on the grid is series stalwart Frank Karl from Auckland in his McLaren M10B 400-18S, Tim Rush from Feilding in his later model (1972) McLaren M22 M22-3-72, and series newcomer, Toby Annabell, from Taranaki in his recently acquired McLaren M10B 400-7.
Set to bring the tally up to five at the Taupō meeting is Tauranga driver Rob Ward making his series debut in the 'low-wing' McLaren M10A.
The SAS Autoparts MSC NZ F5000 Tasman Cup Revival Series will once again headline the single-seater competition at the meeting with a field of at least 15 cars expected to contest preliminary races on Saturday and Sunday as well as the Taupō Historic Grand Prix race itself on Sunday afternoon.
As well as races for Formula 5000s, the two-day event features demonstrations of historic Ford racing and rally cars, races for a range of historic cars, plus displays of Ford models spanning 60 years of motoring in New Zealand.
More on SunLive...