Zoe Kennedy says goodbye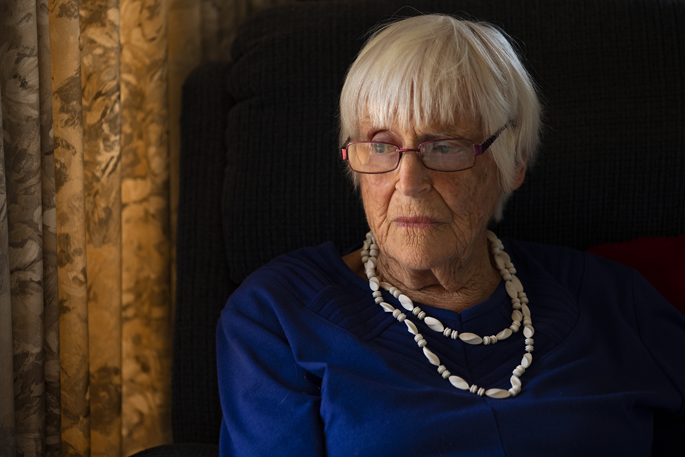 As Zoe Kennedy reflects back on her life in Tauranga, she says something extraordinary.
"Tauranga gave me my dream."
She pauses and smiles.
About a week before Christmas, this stalwart and pillar of local theatre for half a century left her Tauranga home with her son Greg to move to Greymouth where her daughter Cathy lives.
Cathy, who previously had a plant nursery business in Tauranga settled on the West Coast of the South Island after searching for a climate that had less heat and humidity in which to grow her plants.
"That's where my ancestors settled in New Zealand when they came out in 1861 after the tin mines in Devon Cornwall closed down," says Zoe.
Zoe has been involved in more than 40 theatre productions in Tauranga over the last 50 years in some form or other, either acting, working backstage, directing, working front of house, or helping her close friend Pat Roser with theatre restaurant.
It seems pure luck that she ended up carving out her life in Tauranga.
"I was an Auckland girl. I'd gone overseas to do my big OE as you did in those days, and I had a letter from a friend back in New Zealand who was concerned for my mum.
"I went straight away to book, to see if there was a cancellation on a ship so I could come home. I was very lucky. I got one on the Southern Cross, and immediately wrote to a friend back home asking 'can you tell me please what's been happening, I've booked on a ship and I've got to confirm it by such and such a date'. Of course in those days you didn't phone anybody because it was too darn expensive so you wrote letters. I didn't hear back by the time that I was due to confirm my booking so I confirmed it and then I was committed."
She had posted the confirmation during her lunch hour, standing hesitantly in front of the post box.
"I remember walking up and down in front of this box thinking 'shall I post it, shall I post it?' and a voice in my head said 'POST IT!' When I got home there was a letter from my friend saying 'don't be ridiculous, your mother is alright'. But I was then committed."
The ship sailed with Zoe on board, and amongst a group of Australians and Kiwis she met her future husband Ray.
"He was one of the noisy Aussies. We were just good friends, and I think we walked the deck together on the last night out from Wellington. We exchanged addresses and I never thought another thing about it."
Ray however must have thought more about it, visiting Zoe in Auckland, with the pair eventually marrying and moving to Tauranga.
"He'd been working here six weeks. Mum asked him where would he like to live, and he said 'well I don't like Auckland much', and my mum said 'well when you were away did you see a place you liked' and he said 'yes Tauranga'."
They both landed jobs in Tauranga, and grew their life amongst a growing number of friends.
"I was very lucky in the people I met. I had always been in theatre in Auckland but Ray had never had anything to do with theatre. I started to get the itch but every time I got the itch I got pregnant so I gave that up for two or three years."
She and Ray had three children, and Zoe drew them all into the magical world of theatre at then Tauranga's Repertory Theatre, now 16th Ave Theatre, with Ray applying his practical skills to helping build sets, while Zoe took on numerous roles including president. Ray passed away about ten years ago.
The first play Zoe auditioned for was 'Verdict'.
"That's where I met Zoe in 1969," says Richard Carey. "Zoe is a very good actress, there's no two ways about it. She could more than hold her own with any professional actress in this country."
Zoe was also involved in plays with Gateway Players, a professional theatre company in Tauranga.
"One that I'll always remember is 'The Glass Menagerie'," says Richard.
"I've seen Joanne Woodward and Katharine Hepburn play that part in films but Zoe was just completely outstanding in it, all beautifully done with a southern American accent. It was an absolutely stunning play.
"Zoe's talent is immense and I have the greatest respect for her."
Friend, director and also 16th Ave Theatre past-president Julie Lankshear says that anything Zoe did for theatre she did 100 per cent.
"She was always a perfectionist," says Julie.
"It's sad to see her leave. She's been with us through the hard times and through the good times. Her contribution is huge – she's directed plays, acted in plays, been on the committee. When we were doing theatre restaurant, she and Pat Roser made all the three-course meals.
"I have loved my life in Tauranga," says Zoe.
"Tauranga gave me my dream."
More on SunLive...