Pauanui Beach closed due to shark sighting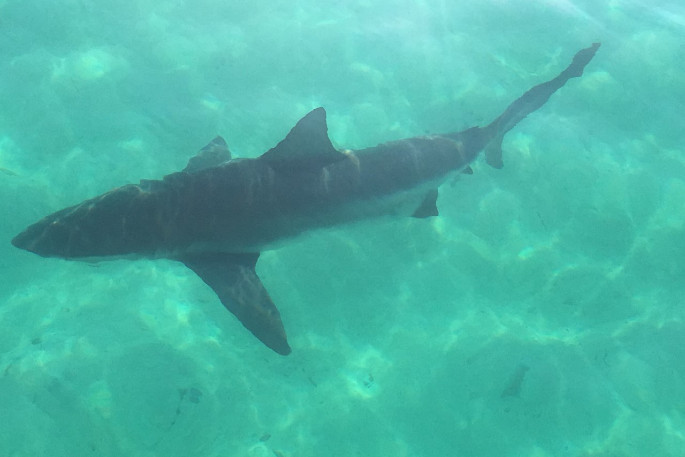 The Pauanui Beach has been closed this afternoon to swimmers and surfers following a shark sighting.
Lifeguards at the Trust Waikato Pauanui Surf Life Saving Club ordered everyone out of the water after three sharks were sighted around 1.30pm.
"They aren't particularly large sharks and we believe they are probably bronzies," says a Surf Life Saving NZ spokesperson. "But we have the practice of whenever any are sighted we take people out of the water until 30 minutes after the last sightings.
"We realise people are feeling quite heightened at the moment."
On Thursday, a young woman died following what is suspected to be a great white shark attack at Waihi Beach which is about 70km south of Pauanui. This has yet to be confirmed by a coroner.
Nineteen-year-old Waikato woman Kaelah Marlow died at the beach soon after being rescued from the water.
While the sighting of a great white shark is comparatively rare, bronze whaler sharks are very common in New Zealand, often being spotted swimming amongst the waves and shallows at beaches.
The chance of being attacked by a shark is "very very slim," says Niwa shark expert Warrick Lyon says, but he advises swimmers to be cautious still.
Smaller sharks were "everywhere" around the New Zealand coast and some larger species could come in close to the shore, he says.
"I swim in Wellington Harbour. I know when I do it there is a stack of sharks in there but the chances of something having a go at me is very very slim.
In summer, bronze whalers came in close to shore to chase kahawai.
"You get schools of kahawai around the breakers and bronze whalers chase those. Those [bronze whalers] are the ones you see off the beach around Coromandel and Bay of Plenty," says Warrick.
In the past week there have been several shark sightings around the country. On Friday, swimmers jumped out of the water at a beach in Abel Tasman National Park when a shark, thought to be a bronze whaler, was seen cruising near the shore.
Lifeguards called swimmers and surfers out of the water at New Brighton beach in Christchurch on Thursday afternoon when a "small" shark was seen in the water, and on Thursday morning a dead bronze whaler was found washed up on Milford Beach in Auckland.
Department of Conservation shark exert Clinton Duffy says New Zealand has a "very low" rate of shark attack, with only one or two reported incidents a year, and a "very low" incidence of fatal shark attack.
"Most sharks, even great whites, typically exhibit little if any interest in humans. Species such as bronze whalers generally avoid swimmers and divers (except spearfishers)," says Clinton.
"Any shark over 1.8m in length should be treated as potentially dangerous unless you are familiar with sharks and shark behaviour. If you encounter a shark while swimming the best thing is to leave the water as quickly and quietly as possible. You do not want to give a predatory shark the impression that are injured and distressed, and therefore potentially easy prey.
"Areas to avoid are deep channels, areas with concentrations of baitfish or feeding seabirds or dolphins, and anywhere anyone is fishing or has discarded fish remains. Sharks generally become more active and hunt at night so swimming at night is not recommended," says Clinton.
Several species of large shark move inshore in spring and summer to reproduce and feed. Around the South Island the most common species in shallow coastal waters was the broadnose sevengill, around the North Island it was the bronze whaler.
Meanwhile, Pauanui Beach remains closed until further notice.
"The [Pauanui] life guard tower will let them know when people are allowed back into the water," says a Surf Life Saving NZ spokesperson.
More on SunLive...