Skinnies sunscreen partners with Surfing NZ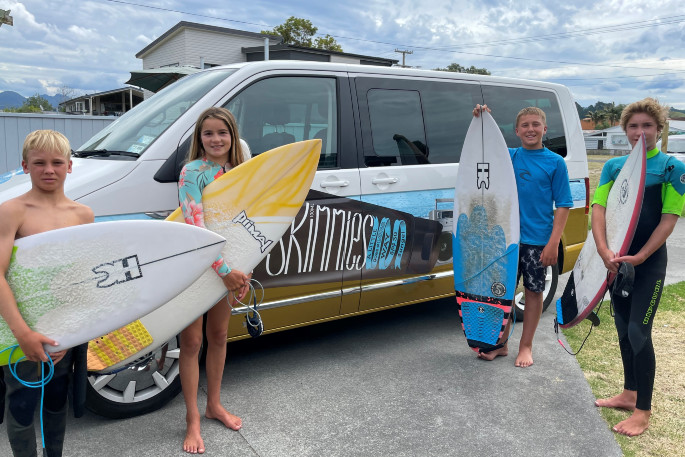 Skinnies will become the official sunscreen of Surfing New Zealand, helping to protect surfers at events around the country and supporting the development of up and coming talent by providing the Skinnies VW Van for training camp road trips.
Skinnies NZ has announced the new exciting partnership with Surfing New Zealand today.

"We are delighted to partner with Skinnies," says Surfing New Zealand General Manager Ben Kennings. "As a New Zealand owned, environmentally friendly company, Skinnies fits well with our desire to develop world class surfers here in NZ whilst protecting and enhancing their wellbeing and the wellbeing of our coastal environment.
"We're looking forward to sharing the benefits of Skinnies great product with the surfing community this summer, starting at our Nationals 10-16 January at Piha."
Ben says Surfing New Zealand governs all organised and competitive surfing in New Zealand, and is passionate about protecting New Zealand's coastal environment.

"Skinnies is a performance brand that really fits the lifestyle of surfers, so we're delighted to form an official partnership with Surfing New Zealand," says Skinnies' Co-founder Olly Van Arts. "Surfing is one of those sports where you are fully exposed to the elements, the sun is hot, and many sunscreens are known to wash off easily in the salt-water."
Skinnies makes sunscreens that are reef safe, cruelty free, use the latest in UV filter technology and packaging made from sugar cane which is 100 per cent recyclable.
"Given our sunscreens are made with zero water and being gel based, they are extremely effective at staying on the skin with long water resistance. Skinnies doesn't evaporate or come off when you get active, so we're excited to associate Skinnies with this popular sport," says Olly.
More on SunLive...