Vets urge dog owners to find shade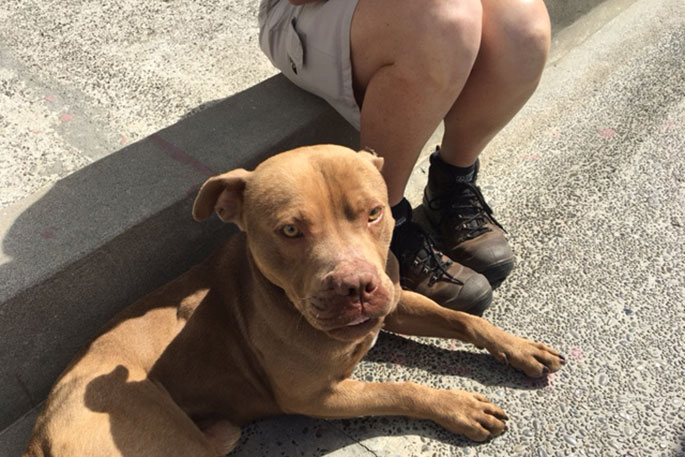 Vets warn dogs could be at risk of over-heating this summer.
This comes after concern from the public seeing dogs hopping along on hot pavement.
Tauranga Vet Martin Earles says this is because their bodies are lower to the ground and they can't sweat.
He says although many of the public are aware not to walk their dogs in the heat of the day because the heat of the pavement will burn their paws, the real concern is that they will overheat.
"It's not just the air temperature but the radiated heat that comes off the footpath.
"Especially in the middle of the day they'll get very hot and just won't be able to cool themselves down."
Martin sees more dogs come in because of over-heating rather than burnt paws.
"At least a couple of times a year we see dogs coming in with heat stroke."
He says anything from low to mid-twenties could be enough to give a dog heat stroke.
"It's like they're wearing a jersey some of them, they've got this big thick coat and they just can't get themselves cooled down.
"It does worry me when I'm driving around during the day and I look outside and someone's taken their big black hairy dog for a walk at midday at it's 25 degrees you know the dogs potentially going to be getting heat stroke."
Martin says if people are unsure they should take off their shoes and walk around on it for a couple of minutes to get a feel for how hot it is.
According to Martin, the best time to take them for walks is between 6am and 7am and after 8pm or 8.30pm.
He says taking them somewhere where there's bush or shade is a better idea, or even to the beach where the water can cool them down.
A list of areas can be found on the Tauranga City Council website here.
But he says not to take them anywhere with long grass, as most days they see dogs come in with swelling in their feet from grass seeds getting stuck in their toes.
It's also not just taking them for walks, but making sure they have a shady area at home.
If a dog does over-heat, owners should cool them down with tepid water rather than cold water as this can constrict the blood vessels and slow down the process. He says to avoid ice water.
He warns dog owners to also not be tempted to feed extra food scraps from barbecues or Christmas dinners.
"We also see dogs coming in with vomiting or diarrhea. Try to keep their diets as normal as possible during the holiday season and avoid giving them the fatty greasy bits."
More on SunLive...