Policing isn't for dummies.
With more and more recruits joining up with tertiary qualifications, and with supported study available to serving staff, you're more likely to find our people discussing their degrees than their doughnuts.
The range of academic qualifications sits alongside the variety of ethnicities, languages and life experiences to be found in Police in 2021.
In Recruit Wing 339, for example, which graduated in July, almost one in three members had a degree in subjects ranging from psychology to Māori Studies.
Other members had post-school diplomas and certificates in areas ranging from civil engineering to mental health and addiction.
It's not unusual for at least half of a wing's members to have some form of tertiary qualification.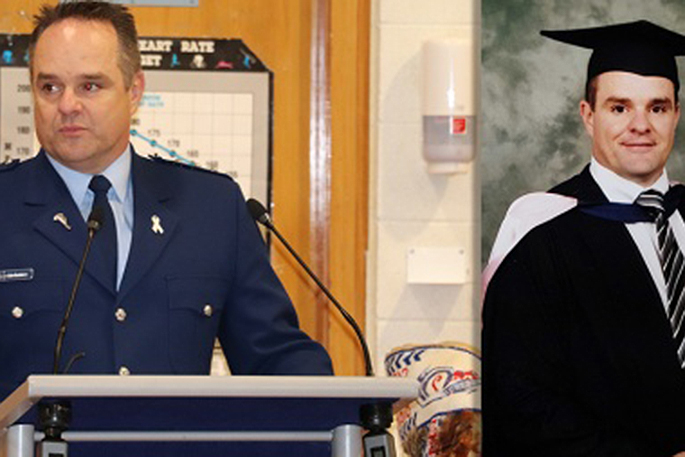 Inspector Iain Saunders, at the RNZPC and on his graduation day.
"Often the recruits who get the attention in media are our quirky or famous ones – who've been sporting or media stars or have had unusual experiences, such as saving someone's life," says acting General Manager Training, Inspector Iain Saunders.
"But many of our recruits are just hard-working individuals with broad and interesting backgrounds, often with tertiary training.
"Overall our recruits have worked very hard to get where they are today, whether it be a successful career, finishing tertiary education, raising a family or all of the above at once."
Iain graduated from the Royal New Zealand Police College with Wing 124 in 1991 and later went on to receive an MA in Psychology in 2006, and a post-graduate Diploma in Industrial Psychology.
In June 2020, graduates in Wing 338 had the added challenge of learning from home and their local police stations because of COVID-19.
It wasn't an issue for those used to studying – there were nine recruits with Bachelor's degrees and one Master's among the 37, while seven had other types of tertiary qualifications.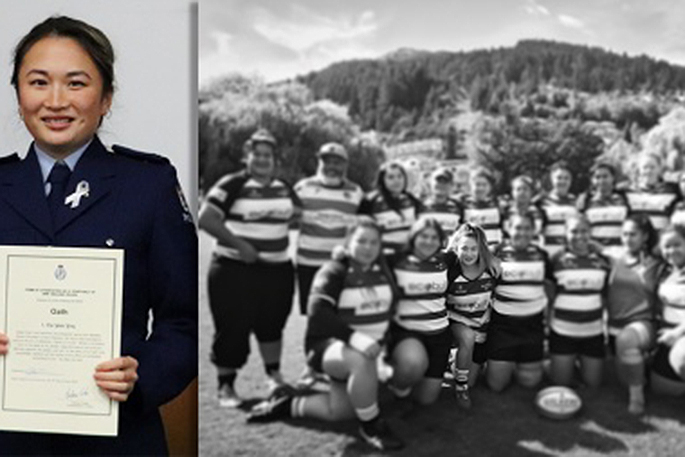 Constable Da Yun You, on attestation day and with her rugby team (third from left, front row).
Constable Da Yun (Danielle) You, from Wing 337 wing, has a BA in Sports Coaching. She also has a background volunteering for Canterbury Cricket – great for building connections.
"I am new to Tāmaki Makaurau and the big move here from Christchurch was well worth it," she says.
"What I love about the job is you never know what to expect next - it's very fast-paced and keeping me on my toes. I feel lucky to be placed with my super helpful group."
Wing 336 had no friends or family at their graduation ceremony – thanks again, COVID-19 - but did hear from their patron, Director General of Health and man of the moment Dr Ashley Bloomfield as their wing patron.
Of the 59 graduates, 26 had tertiary qualifications including 15 Bachelor or Masters degrees.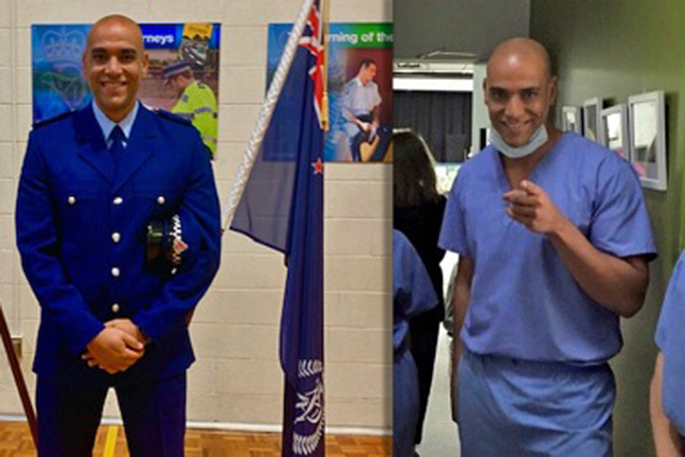 Halim the constable - and Halim the dentist.
Abdelhalim (Halim) Hassouna from Wing 336 has a Bachelor of Dentistry degree.
"I was born in Egypt, grew up in the Middle East, North Africa, the Mediterranean and the Arab Peninsula, learning Arabic, French and English. I was exposed to many different cultures, religions and beliefs," he says.
"I volunteered for Community Patrols of New Zealand in North Harbour prior to submitting my application to New Zealand Police. It's exciting and I am glad to be in this blue uniform."
Among Wing 335's graduates was Constable Torika Dredregasa, Fijian-born and now in Counties Manukau. With a BA in management and tourism, and a diploma in business management, she's well-used to interacting with a diverse range of people – useful in engaging in her current role "as we meet new people every day in policing".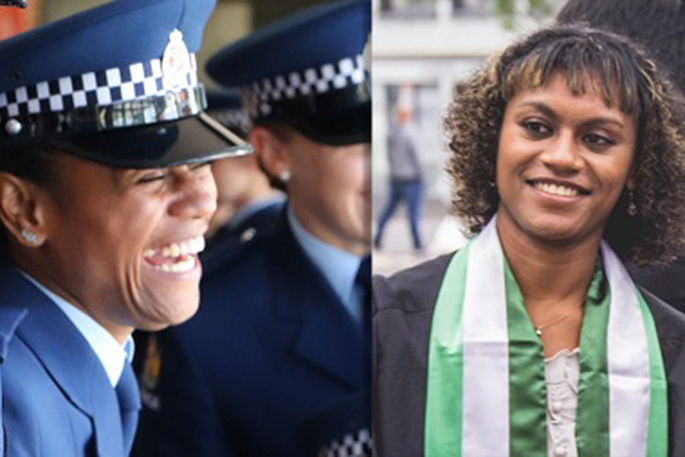 Constable Torika Dredregasa on graduation day, left, and graduation day, right.
Study doesn't stop when you graduate either, says high-flyer Superintendent Steve Greally, (Wing 192, in 2000) who is currently leading the Police COVID response at a National level.
"Aviation and policing came together for me as a result of a university education, as I have a strong passion for both," he says. "Using pilot licences, general flying experience and Police promotional papers enabled me to gain cross credits which drove me to complete a degree."
Steve graduated from Massey University in 2016 with a Bachelor of Aviation Management. "I studied topics such as counter-terrorism, human factors, research methods, organisational behaviour and air accident investigation, which was taught by the late Ron Chippendale who investigated the Mt Erebus crash in 1979."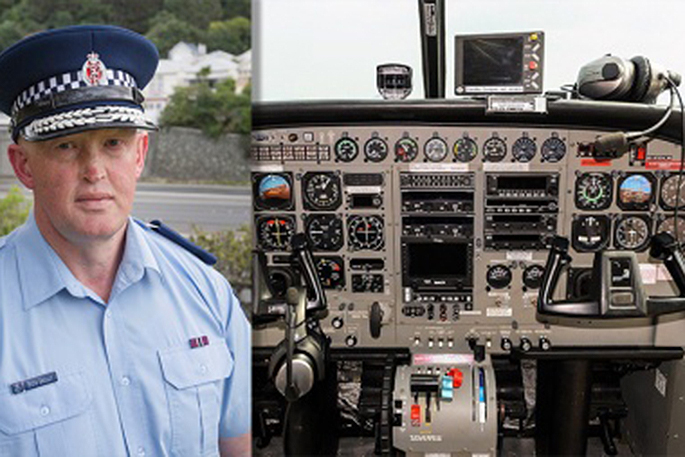 Superintendent Steve Greally - and the cockpit of his favourite aircraft, the Cessna 208.
Steve earned his commercial pilot licence in 1992. From 1994 to 1996 he piloted twin-engine aircraft, then joined the Airways Corporation (now Airways NZ) as an air traffic control trainee.
"I loved my time there as I got to live in Queenstown before I was posted to Auckland. While working in Auckland, I went on a ride-along with Counties Manukau police and never looked back. I enjoyed it so much I joined Police in 2000.
"The power of an education should never be underestimated."
We're lucky, Iain says. "Overall, I believe our intakes show a broad range of skilled people of many different ethnicities, backgrounds and educations. It's fantastic to have such a diverse and interesting keen bunch of people who choose this challenging but rewarding career.
"It's fantastic to see so many with tertiary qualifications, but equally we recognise those who have life experience, with families and careers and overseas ventures. They all have so much to offer."