Hazardous driving conditions today due to weather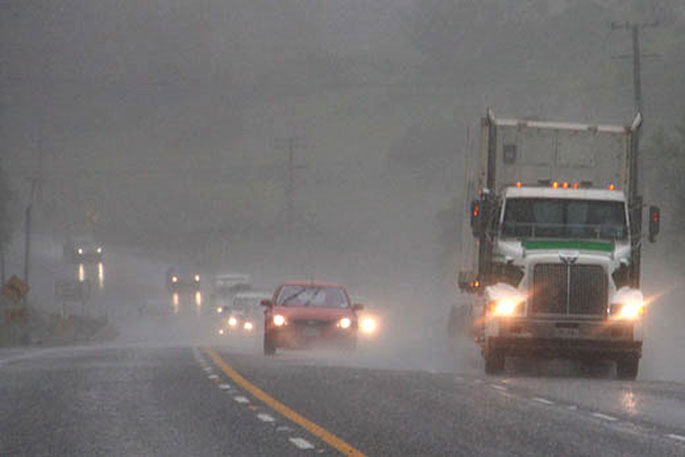 The MetService have issued a Severe Weather Watch and Severe Thunderstorm Watch this morning with heavy rain expected for eastern Bay of Plenty, Buller and northern Westland.
Driving conditions are expected to be hazardous with surface flooding and poor visibility in heavy rain.
"A slow moving trough continues to bring heavy rain and slow moving thunderstorms to Bay of Plenty east of Kawerau this morning," says a MetService spokesperson.
"Localised downpours with rainfall rates of 25 to 40 mm per hour are expected, or possibly more in thunderstorms."

Rainfall of this intensity can cause surface and/or flash flooding, especially about low-lying areas such as streams, rivers or narrow valleys, and may also lead to slips. State Highway 2 between Awakeri and Opotiki in the Waimana Gorge is closed this morning due to a slip and flooding.
WeatherWatch advise that a weak and large area of low pressure continues to cover the entire nation today with Sunday looking remarkably similar to Saturday's set up.
"No two days are ever precisely the same when it comes to downpours and thunderstorms but the risk zones cover the same areas - most of the North Island, especially inland, and also over the lower eastern South Island," says a WeatherWatch spokesperson.
"Once again some who need rain will miss out, despite what is forecast. This is due to the complicated nature of afternoon downpours which bubble up randomly within those risk zones and get pushed along slowly by very localised winds."
The lower eastern South Island including Otago, Canterbury, and maybe Northern Southland may have more flooding today with patchy rain, showers and later some thunderstorms and heavy downpours.
"The region has gone from being too dry to very wet, very fast," says a WeatherWatch spokesperson.
"The North Island also has flooding risks with isolated downpours slowly moving through once again.
"Like Saturday, large areas will be dry and may miss out on the biggest totals.
"Your local estimated rainfall totals may not pan out precisely for everyone with these intense showers having the potential to produce higher totals if they track slower - but, at the same time, the terrain and light breezes around NZ may shift these downpours away from areas that need rain most," says a WeatherWatch spokesperson.
More on SunLive...