Mountie is back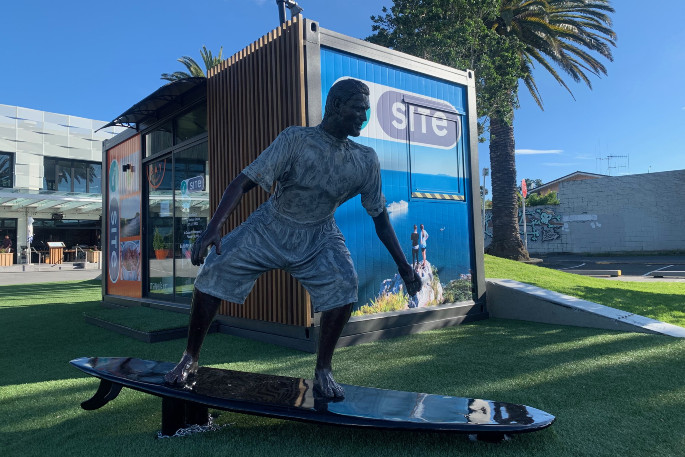 Mountie is back at the Mount, reappearing just before Christmas, much to the delight of all those who have been posing with him for a photograph.
Mount Mainstreet cleaner Dean Wright says that people have been taking photos of the statue with Mauao as a backdrop.
"They stand there next to him with a view of the Mount behind him and get a selfie," says Dean. "He was back here just before Christmas."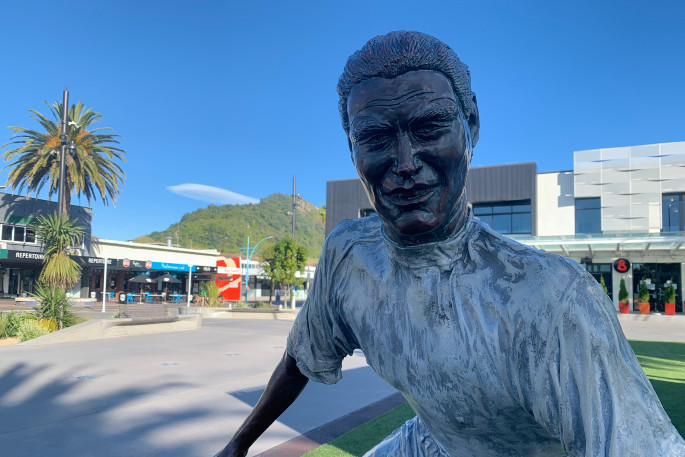 Mountie, with Mauao as a backdrop
The statue is positioned on the new fake green grass next to the temporary information centre.
"The information centre is there for seven weeks," says Dean.
"He looks good. Some people have said he is facing away from the surf but he looks good. They put a couple of surfboards out yesterday with some information.
"Heaps of people have been taking photos, that's for sure."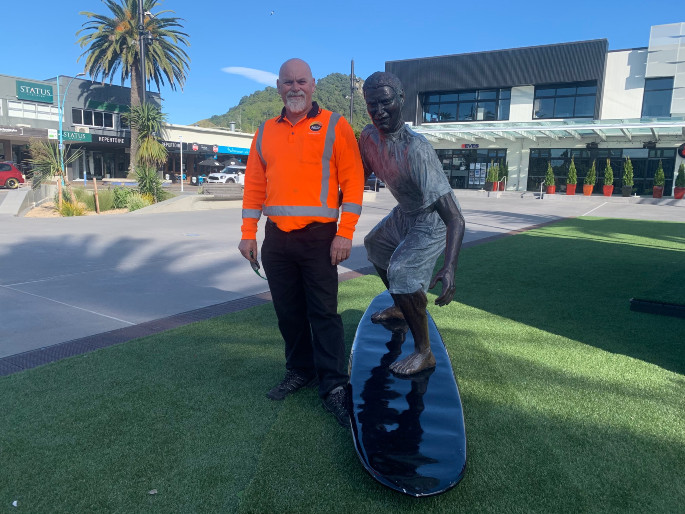 Mount Mainstreet cleaner Dean Wright with Mountie.
Mountie has been missing in action for a couple of years. In August 2020 Mount Maunganui and Papamoa ward councillor Dawn Kiddie decided it was time to put Mountie back where he belongs, and tracked him down to the Mount Senior Citizens Hall where he was being stored.
The statue was removed from the carpark prior to the development of what is now Te Papa o Nga Manu Porotakataka.
The urban space – a mix of hard surfaces, lawn and native planting, with an interactive water feature, is at the heart of Mount Maunganui's city centre – and the feeling amongst local residents has been that it's time the much-loved and photographed sculpture was returned.
Mountie appeared back at the park, without his trademark waves, just prior to Christmas.
Mainstreet Mount Maunganui's Project Phoenix was officially opened by Prime Minister Jim Bolger on July 5, 1996. It was envisaged that the project would revitalise the Mount.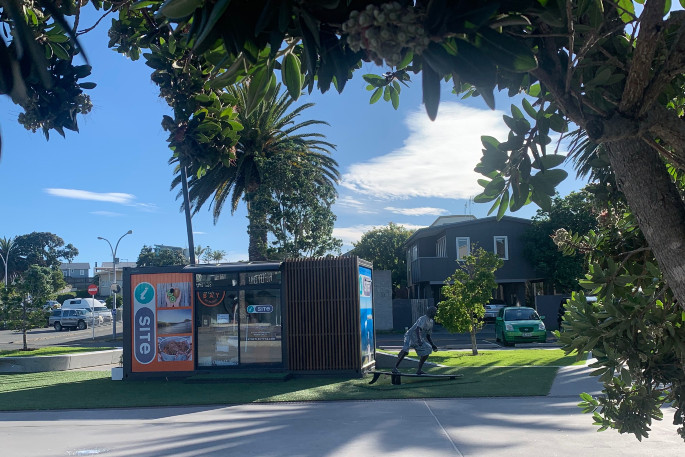 Mountie, positioned next to the i-Site on the fake grass at Te Papa o Nga Manu Porotakataka
It is thought that Mountie, owned by Mount Mainstreet, became a key Mount icon around December 2005 or 2006. Since being installed on the deck of the Mainstreet office, he enjoyed an adventurous main street life, including a kidnapping attempt in 2008, following which sculptor Donald Paterson had to reattach his arm.
Mountie has overseen the Farmers Market, held every Sunday 9am – 1pm rain or shine, except during lockdown. In June 2015, the statue was at hand to keep an eye on then Mainstreet manager Peter Melgren's inaugural New Zealand Gourmet BBQ Championship, which attracted some of the best gourmet cooks from around the country.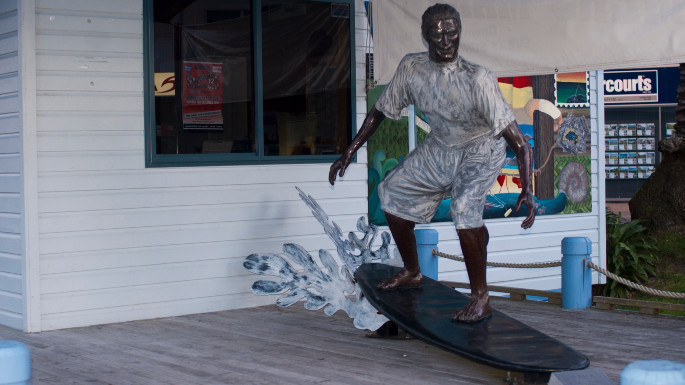 Mountie, at his old site with waves, outside the information centre which has since been removed.
There's been the annual VW 'show and shine' event, a Tauranga to Trenches mobile exhibition commemorating the centenary of the First World War in 2015, the spectacle of 20 Morgan sports cars in 2016, and both Santa Claus and the Easter bunny have put in appearances next to Mountie, entertaining children and parents.
In 2013, Council resolved to include a proposal in the draft Annual Plan to redevelop the Phoenix carpark into an urban space and undertake a community engagement process. Elected members resolved in 2017 to proceed with the implementation of the Phoenix park open space development. The plan was that the new urban green space would benefit local businesses economically through increased foot traffic.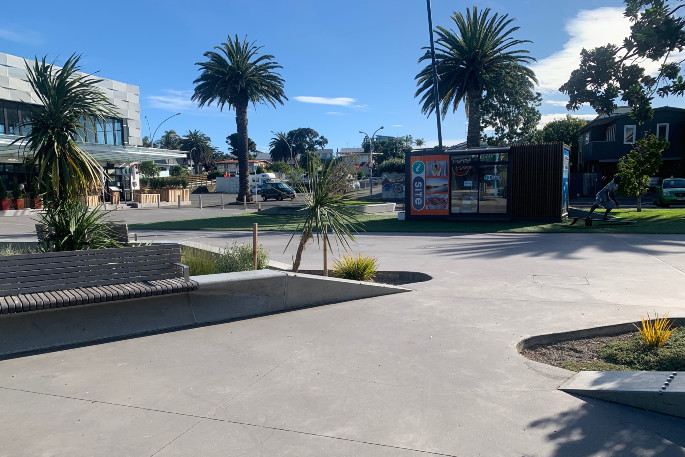 Te Papa o Nga Manu Porotakataka, formerly known as the Phoenix Carpark.
In August Mountie's life in storage at the hall was finally coming to an end as the space was required for other purposes.
Dawn was keen to get Mountie reinstated back at the heart of the Mount shopping area so that once again shoppers and visitors could enjoy being reminded what the Mount is famous for, surfing a great wave. She talked with Mount Mainstreet and Council Tauranga Heritage Collection staff about where his new home was going to be.
"I got in touch with Dean Flavell who stores the artefacts and we managed to rehome him there [with the Tauranga Heritage Collection] for the last period of time," says Dawn.
"Then working to as quickly as possible have him reinstated somewhere before Christmas as promised.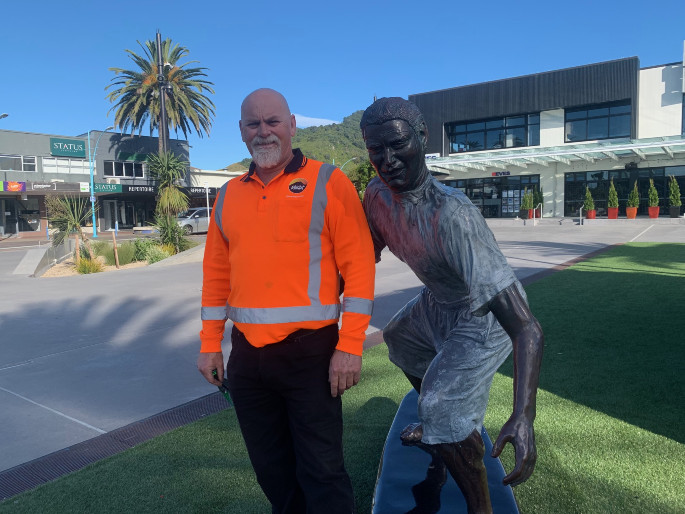 Mount Mainstreet cleaner Dean Wright with Mountie.
The statue was strategically placed by Council so that Mauao appears behind him.
"The majority of the community wanted him back at the same park," says Dawn. "He was originally next to the information centre. They put the temporary information centre in first on the turf and then placed Mountie."
"It would be nice to think that as per discussion we can work with the local hapu to design the plinth for Mountie to be permanently installed on."
Local Mounties woke up one morning before Christmas to find their beloved Mountie back at the park, this time surfing in a new direction towards the ocean, but perfectly sited for selfies with Mauao as a backdrop.
"It's good to see him back," says Dean.
"According to the late Peter Melgren, Mountie was one of the most photographed statues in the Bay of Plenty and I'm so pleased that he's been reinstated," says Dawn.
More on SunLive...