A hundred homes planned for the homeless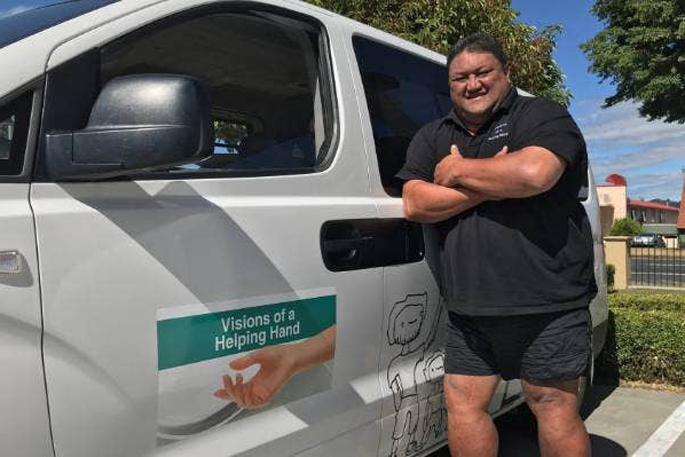 When Rotorua homeless campaigner Tiny Deane met a Nelson-based pre-fabricated home builder, he picked up the phone and called the Ministry of Housing and Urban Development.
"I need a couple of mill[ion dollars]."
Not for the first time, Tiny Deane is thinking big about how to get homeless people off the streets, out of the motels and into homes.
The Visions of a Helping Hand founder has been looking after more than 100 of Rotorua's homeless at the Tuscany Villa's motel since the COVID-19 lockdown measures kicked in back in April.
Deane says that thanks to a group of private investors, he has secured more than 100 sections in Rotorua.
Now, they just need the houses to put on them.
His plan is simple.
Get the Government to invest in a factory to produce the homes, which can then be used across his Rotorua sections and later, across sites in the wider Bay of Plenty.
Deane is waiting on a decision from the Provincial Growth Fund about the funding, but appears confident.
His charity has already transitioned 75 families into their own homes since July, and his track record is getting noticed at Ministerial level.
He says he's been "adopted" by the Ministry of Housing and Urban Development for one main reason.
"We've been housing more people."
Deane says his Ministry of Social Development contract to house people at the Tuscany Villa's expires on March 31 next year, but he wants to stay in place for an additional five years.
The broad plan is to empty Rotorua's other motels of homeless into Tuscany Villa's as residents there move into permanent housing.
"You give me two to five years, I'll have those houses built."
Deane is candid too about how much he has had to change since he began battling on behalf of the homeless more than two years ago.
"When I first started this I was such a cowboy. I used to tell people to get f....."
It's an approach he admits just won't cut it with Government Ministers.
The other reason he wants to transition the homeless from Tuscany Villa's into housing is their "wrap around" approach.
He says he realised quickly that simply taking a person or family from the streets and putting them into a house isn't enough.
"What Joe Public doesn't realise is the homeless' intergenerational background, they react differently to other people."
He reels off a list of the tales he has heard of family violence, drug and alcohol abuse, gang ties. People who have never had a back account, who have no idea how to apply for a job.
These are the issues Visions addresses first.
Deane says they conduct an assessment of each individual about the road that led them to emergency housing.
Then they introduce them to their programmes, as no-one at Tuscany Villa's "sits in their room all day".
There's the budget plans, job hunting, shifting furniture for Visions properties, getting firewood to kaumatua's.
"What we're leading them into is home ownership."
More on SunLive...