Burne smashes Queen of Mount Maunganui record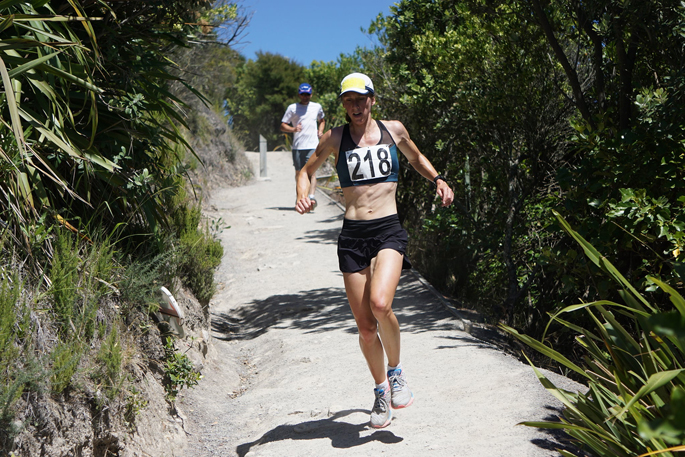 Olivia Burne from Auckland City Athletics has defended her crown as Queen of Mount Maunganui in a 4.5 kilometre Boxing Day race to the summit of Mauao.
She completed the course in a time of 21 minutes and 42 seconds.
Olivia smashed Megan Edhouse's 2000 record time of 22 minutes and nine seconds with a 27-second improvement.
The 2020 King & Queen of the Mountain race, hosted by the Tauranga Ramblers, has participants running from the main beach at Moturiki Island to the summit of Mauao via the Waikorire Track and return via the Oruahine Track on a set course.
With Daniel Jones from Wellington Scottish setting a solid pace on his way to regaining the King of the Mountain title Olivia surprised some of her male opponents with her fast start along the main beach where the tide was out providing hard sand for competitors which suggested records were there for the taking.
Olivia, 29 years old, who won the first AIMS Games Year 8 Girls race in 2004, has several New Zealand titles to her name.
On Saturday she was followed home by Sue Crowley from Rotorua with a time of 24 minutes and 34 seconds, and Papamoa's Kerry White finished third with a time 24 minutes and 40 seconds.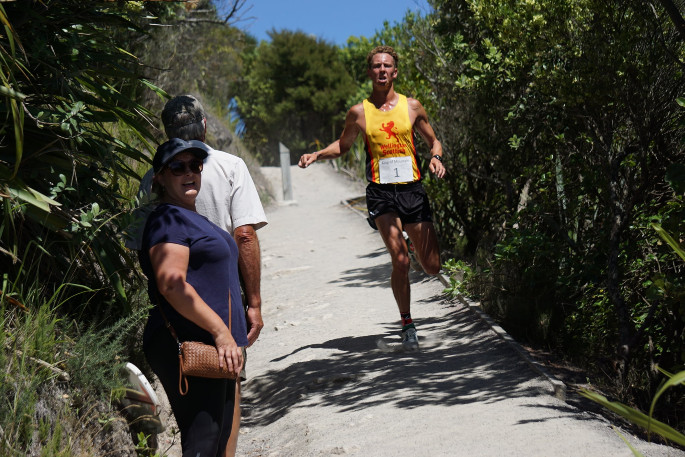 Daniel Jones descends Mauao well in control for his seventh King of Mount Maunganui on Boxing Day 2020. Photo: Supplied
For Daniel it was a case of no one pushing him to break his record of 18m 32s set in 2015 as he recorded 19m 00s to lead home former winner Sjors Corporaal from Murupara with a time of 19m 23s to take his seventh title since 2008 behind Barry Prosser's – from Wellington Olympic- 11 titles.
David Haunschmidt from Tauranga was third Mens Open, in 19m 32s, with Ben Winder from Auckland first Master 35-49 in 20m 45s, followed by Matt Backler from Tauranga in 22m 46s and Harley Sutton also from Tauranga third in 23m 42s.
Sarah Backler from Tauranga was first Masters Woman 35-49 in 25m 24s, with Anna Berthelson from Nelson second in 26m 25s and Tracy Snow from Mount Maunganui third in 29m 37s.
In the Masters Men 50 plus Gary Foreman from Tauranga was first in 25m 34s with Allen Berthelson also from Tauranga second in 25m 51s and Alan Crombie from Roturua third in 25m 58s while Kerris Browne also from Rotorua won the Masters Women 50 plus in 43m 59s from Jenny Brady from Morrinsville in 44m 11s.
First Junior Man U20 was Jack Murray from Papamoa in 22m 33s and Junior Woman U20 Mikaela Salmon from Katikati in 34m 3s.
In the Junior Races from Moturiki Island to the bushline and return Joshua Cavanagh from Hamilton was first Boys Under 16 in 9m 46s, with Azrael Cabusao from Papamoa in 9m 52s and Adisen Mahy also from Papamoa in 9m 56s. Renee Carey from Mount Maunganui was first Girl Under 16 in 10m 55s with Sylvia Thompson from Tauranga second in 11m 33s and Anja Crombie from Rotorua third in 11m 38s.
Max Stirling from Hamilton was first Boy Under 12 in 10m 27s followed by Jack Stirling also from Hamilton second in 10m 37s and Corin Jack from Te Puke third in 10m 54s.
Emma Hills from Hamilton was first Girl Under 12 in 13m 43s with Kemdra Gray from Cambridge second in 16m 34s.
Next year will be the 75th Running of the King of the Mountain. The Queens did not start until many years later.
More on SunLive...