What's on - cricket, triathlon, summer carnival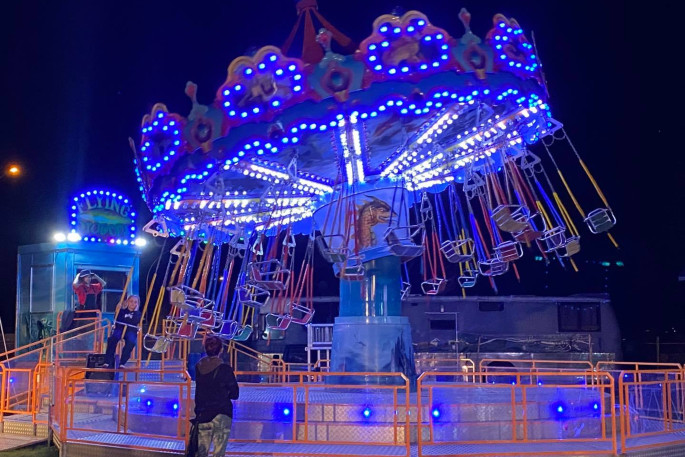 Good morning and welcome to Sunday. Kia ora. Kia ngahau me o whanau me o hoa.
The weather forecast is for a fine day to start with, with southwesterlies. Showers are expected to develop by the afternoon, some heavy with thunderstorms and hail, but clearing at night.
It's a one-clothing-layer day with an expected high of 21 degrees around 3pm, and an overnight low of 9 degrees. Low tide is at 12.02pm and high tide at 6.12pm. Sunset is at 8.39pm.
Traffic update:
Traffic is expected to be busy eastbound on SH29 through the Lower Kaimai area from 10am – 4pm each day between Sunday December 27 and Wednesday December 30. Road users are advised to expect delays and allow extra time for their journeys or consider travelling outside these periods, and to drive to the conditions.
What's on today?
Be part of the excitement at the Bay Oval at Mount Maunganui as the Blackcaps continue to play Pakistan today from 11am – 6.30pm.
It's very calm water this morning for the Eves Surfbreaker Triathlon which is on today from 7am – 11am at Mount Main Beach, Mount Maunganui.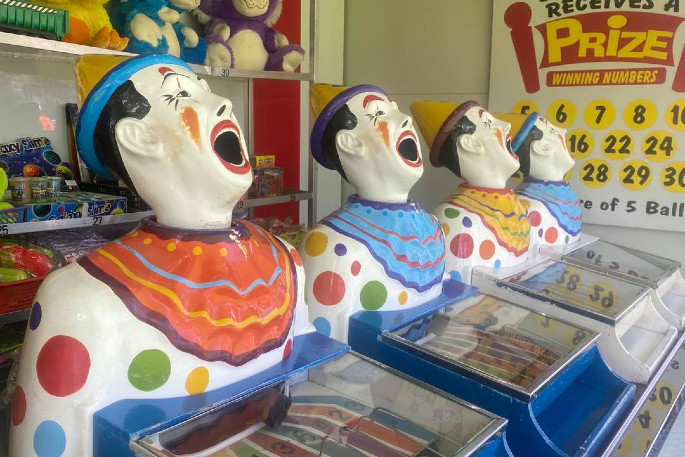 Come to the Summer Carnival at Jordon Field at Memorial Park this evening. Ride your heart out nightly with a super pass from 6pm – 10pm for unlimited rides. Entry to the carnival is free, and pay per ride. The Summer Carnival opened on Boxing Day and runs until January 5.
Enjoy Soak 'N Sounds at the Mount Hot Pools tonight from 7pm – 8.30pm as live musicians play beside the pool. Tonight come and hear Melissa Cox perform. Every Sunday at the Mount Hot Pools from December 20 2020 until January 24 2021 live performances will take place while people unwind with a relaxing soak in the pools.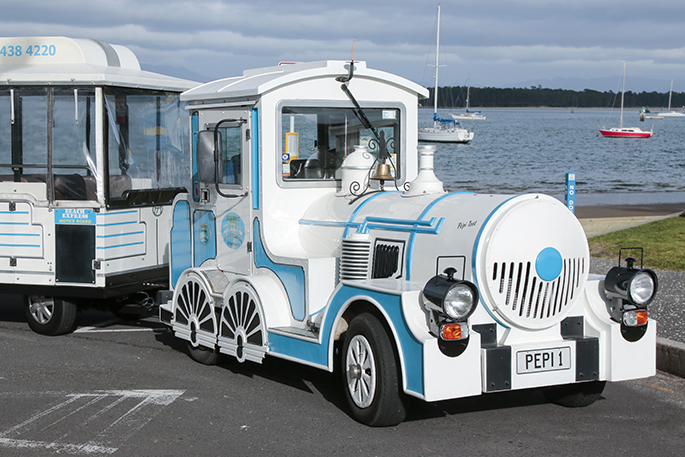 The Pepi Toot Beach Express is out and about around Mount Maunganui today and tomorrow from 10am. Come for a ride and see the Mount area from a new perspective. More information here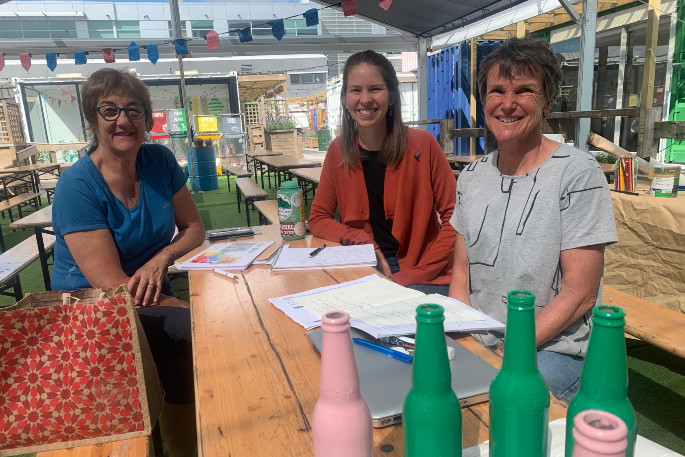 Enjoy workshops at Re:Maker, with the community of makers, located at Our Place in Willow St. Click here for more information.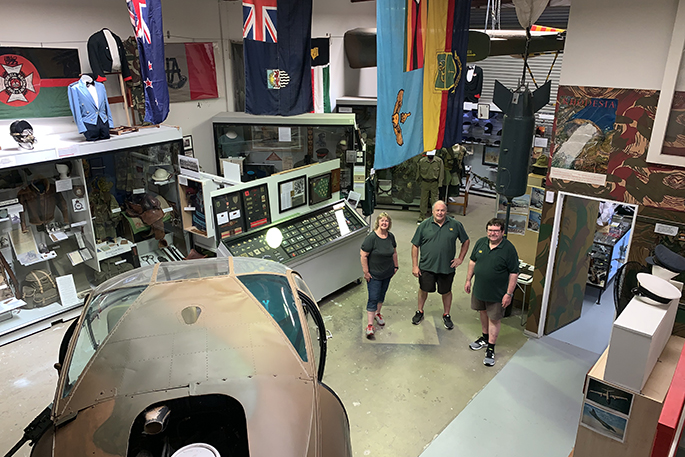 Diana Bomford, Tony Fraser and Hugh Bomford at the Lion and Tusk Museum at Mount Maunganui
Have you been to the Lion and Tusk Museum yet? It's open today from 10am - 3pm at Unit 4, 14 Portside Dr, Mount Maunganui. Come and see a massive display of Rhodesian military history records and exhibits of uniforms, medals and equipment. Opening hours are 10am – 3pm Thursday to Sunday. For more information click here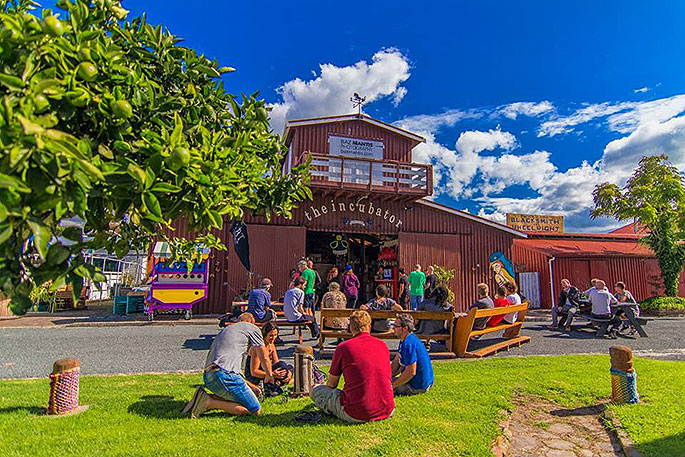 The Incubator
At The Incubator Creative Hub at Tauranga Historic Village, there are many exhibitions, workshops and events happening daily. For more information click here. Exhibition hours are 10am – 2.30pm.
What else is on today?
A COURSE IN MIRACLES
A powerful transformational interfaith teaching to find inner peace. Stuck in past grievances and resentments? Get over it! Free Internet forgiveness workshop. https://jenniferhadley.com/how-get-over-it. Text02102742502
---
Art On The Strand
Original art for sale. The Strand, Tauranga. Weather permitting. 9am-4pm. Tauranga Society of Artists
---
Croquet
At Tauranga Domain, Cameron Rd, Sun, Tues, Fri, 12:45 for 1pm start. Beginners welcome. Ph Peter 571 0633
---
INVITATION TO MEDITATE
Follow your own meditation practice with Quaker Friends during an hour of silence.10am-12 in hall behind Brain Watkins House, corner Cameron/Elizabeth Roads. Refreshments. Text 02102742502
---
Kaimai Canoe Club
Meet other white water kayakers, practise skills at Baywave, kayak the Wairoa release. Ph Joe 021 156 3472
---
Mah Jong Te Puke
12:45-4pm Lyceum clubrooms, 8 Palmer Pl Te Puke. All welcome. Learners on Thursday. Gig Green 0274 306 383
---
Maketu Market
Every 3rd and 5th Sunday. Set up from 7am at Maketu Village Green. Phone Maureen 0212671685 or Lyn 021882059.
---
QUAKERS
invite you to explore your spiritual journey. Silent worship, refreshments, conversation. 10am N W cnr Cameron Road Elizabeth Street. All welcome. Ph 5433101. www.quakers.nz
---
Radio Controlled Model Yachts
Sun & Thurs 1:30-4pm. Pond behind 22 Montego Dr, Papamoa, sailing Electron radio controlled yachts for fun. Adult beginners welcome. Graham 572 5419
More on SunLive...