Cold change forecast to move up NZ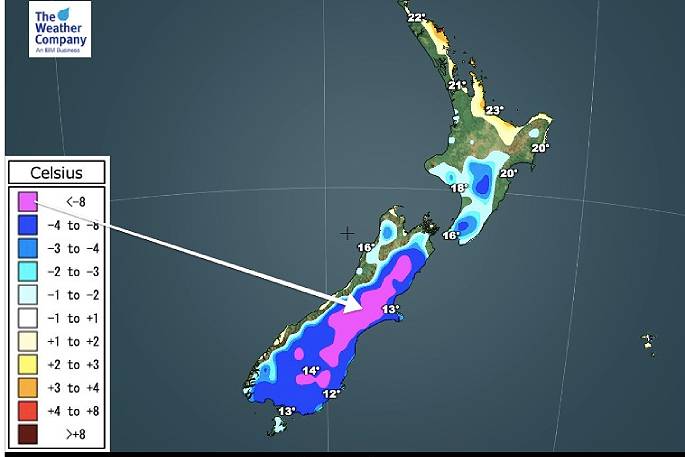 A colder change is moving up the country and gets even colder on Saturday in the South Island and Sunday in the North Island, forecasts WeatherWatch.co.nz
Maximum temperatures across a large portion of the South Island, especially Canterbury, will be over eight degrees below normal on Saturday.
"Minimum temperatures for some more isolated locations well inland, like Tekapo, or even some parts of Northern Southland, will also be more than eight degrees below normal and, incredibly, may even lead to some ice or light frosts.
"However, ground temperatures should be too warm to allow a frost from settling even if the overnight lows get down to freezing for a time well inland.
"If you're in a tent, wrap up warm this weekend. Things start to warm back up again next week for most."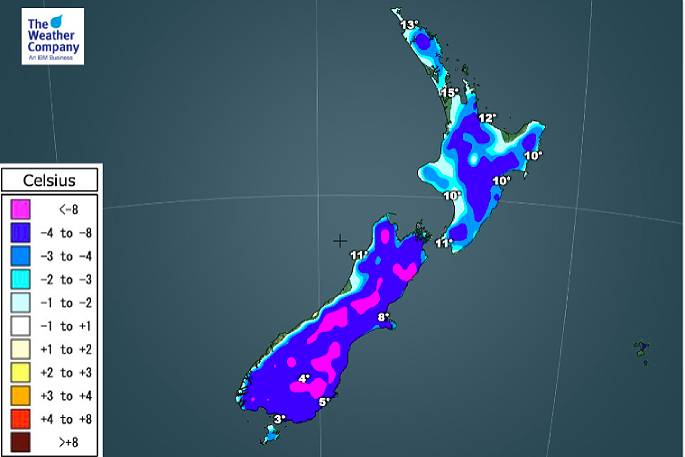 Temperatures forecast for Sunday.
Low Boxing Day (Saturday) Highs:
Dunedin: A daytime high of 11 degrees in some suburbs
Invercargill: A high of 12 or 13
Oamaru & Timaru: A high of 12
Christchurch: A high of 12 to 14 degrees
Tekapo: 9 degrees
Wellington: 15 degrees
Masterton: A of high 16 today (but a high of only 12 or so on Sunday)
Low Lows overnight Saturday/Sunday morning:
Tekapo: +1C
Gore, Lumsden, Balfour: +2C
Te Anau, Twizel: +3C
Alexandra, Cromwell, Springfield, Motupiko: +4C
Invercargill, Queenstown, Darfield, Reefton, Wairau Valley: +5C
Taihape, Taumarunui: +6C
Palmerston North, Taupo, Rotorua, Hamilton: +8C
More on SunLive...