Four decades of care for Tauranga pharmacist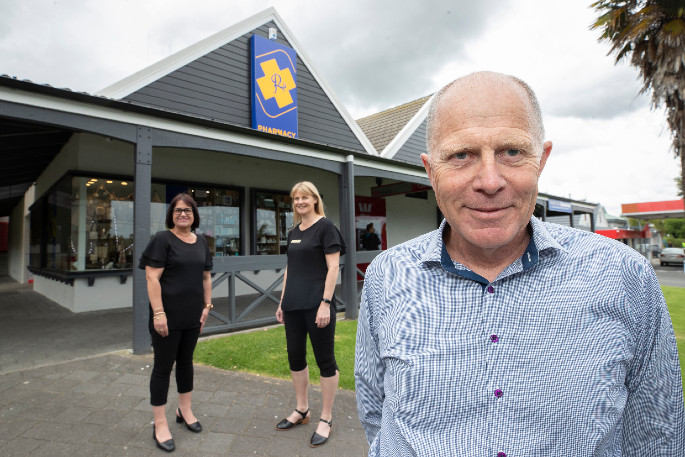 When Neil Waugh first opened his pharmacy in Welcome Bay, he would start the day by loading floppy disks into his DOS computer to access the patient database.
Some 37 years later, the technology has changed but he still sees a lot of the same customers only now they're adults bringing in their children.
He opened Waughs Pharmacy at age 28 when the Welcome Bay shops were first built and it has grown in size to match the swell of population in the area.
Recently, Neil decided to fill prescriptions for the last time and spend his retirement boating, fishing, getting behind the wheel of his motorcycle and travelling when the world opens up again.
One of the rewards of the job is the relationships he has formed over the years and he and the staff know most of their customers personally.
"It's a job where you do feel as if you are helping people so that has its own satisfaction."
He says it's surprising the number of families that have stayed in the area and he has helped several generations of the same families.
As Welcome Bay and Tauranga have evolved over the years, so has the pharmacy industry.
"Our job is increasingly helping people to navigate through the health system."
Technology has enabled more integration and information sharing with other healthcare services. When Neil first started, drug interactions were looked up manually using reference books now there are online databases.
Pharmacies have also taken on a larger role in people's healthcare including providing flu vaccinations, blood pressure checks, the emergency contraceptive pill and nicotine replacement, without people needing to see their doctor.
Neil thinks this is an area that will continue to grow because pharmacies are accessible for the community and it frees up general practitioners for more serious things.
One of the biggest challenges in his career was in 2000 when a fire razed the pharmacy and two other stores in the centre. It was a failed attempt to take out the ATM by setting alight a stolen car beneath it, says Neil.
They ran the pharmacy out of the medical centre for a week before moving to a portable building for four months while everything was rebuilt.
Although it was traumatic at the time, Neil says the support and loyalty they received from the community was overwhelming.
The other major impact on how the business operated is the COVID-19 lockdown. It meant the pharmacy quickly had to adapt to a new normal where one customer was allowed in the pharmacy at a time, in a small designated area while staff got them what they needed.
During that time the pharmacy sold a year's worth of vitamin C and paracetamol in a week, says retail manager Dayna Johnson.
They were going through so much stock they didn't have time to order more or unpack the orders that did arrive, she says.
"At one stage we had to close the doors just so we could clean and restock. It was just unbelievable."
They even enlisted the help of a sandwich press to sterilise paper prescriptions before they were handled by staff.
"We were sitting there one weekend trying to work out how long you could keep a piece of paper on a sandwich press without burning it," laughs Neil.
Dayna is another stalwart of the pharmacy having worked there for 20 years and her sentiments about the community and customers match Neil's.
She says Neil is kind and caring and jokes that she's been trying to organise him for 20 years.
Now the main person Dayna needs to organise is herself, seeing she has bought the pharmacy along with pharmacist Nicola Wakerly.
Nicola's first pharmacy job was at Waughs, she worked there over summer while studying to be a pharmacist. Fast forward 25 years and she's a co-owner after returning to the business three years ago.
With new owners comes a new name and Welcome Bay Pharmacy will continue their longstanding relationship with the community.
More on SunLive...