Papa Moa, Ulysses and Santa bring toys and cheer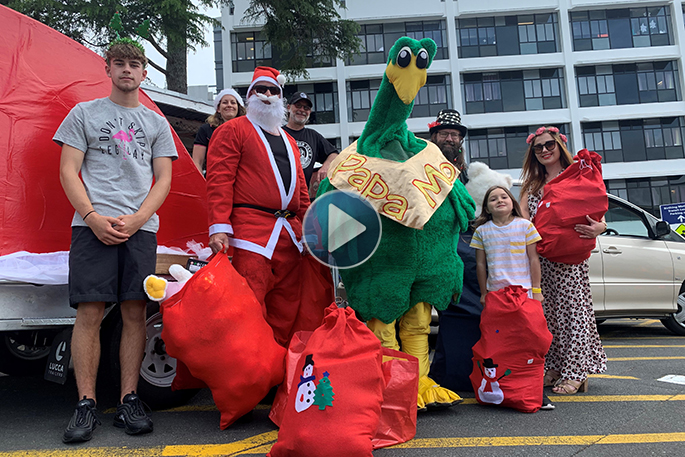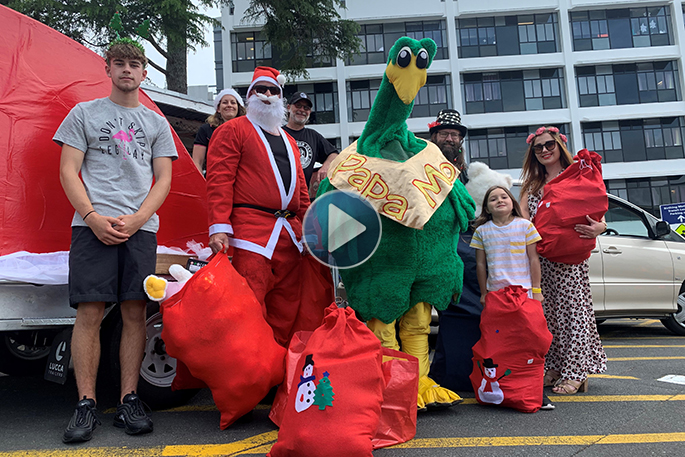 Click the image above to watch the video
A very special kind of Christmas cheer came riding into the Tauranga Hospital carpark this week.
Santa, Papa Moa and his friends arrived on their sleigh with more than 300 brand new toys for the Tauranga Hospital children's ward.
The new toys were gathered as a result of Papamoa Unlimited and the Tauranga Ulysses Club teaming up last week in their SOS Toyrun at the Pak'N Save Papamoa Christmas in Toyland Parade.
"The community spirit has been at a record high this year," says Papamoa Unlimited Event and Marketing Manager Julia Manktelow.
"What an amazing place that we live in to be able to gift over $4000 worth of toys to benefit all of our kids when they need it.
"We had such incredible fun pulling this together and loved bringing smiles to a lot of unexpected first liners as we arrived in our impressive assemblee."
Julia decided that the best way to deliver the toys gathered in Papamoa was to bring them over to the hospital on the sleigh used for the parade.
She was accompanied by Tauranga Ulysses Club President Matthew Farrell, Roger Allen dressed as Santa, and by her two daughters Aliyah Marks and Amaleigh Manktelow.
"The best gift we can ever give is kindness and it was very special to be able to share this experience with my girls," says Julia.
"A huge thank you to the amazing team at the Tauranga, Ulysses Club, Doug Jarvis Butcher, Proactive Four Corners and to the generous people in the Bay of Plenty. May you all have a very Merry Christmas too."
The Toy Run's roots go right back to 1991 when it was known as the Easter Egg Run, being the brainchild of Barry Reilly a motorcyclist who was looking for a way to improve the image of motorcyclists and bikers in general. As president, secretary and treasurer of the Bay of Plenty Road Riders Club, Barry organised the run for ten years from 1991 to 2000, after which he handed the reins over to Ulysses Tauranga.
In more recent times, after some discussion over the merit of feeding unwell children - and medical staff - with copious amounts of sugary chocolate the run morphed into what is now the Ulysses Toy Run, and it continues to attract motorcyclists from all over the country. Its primary function is 'bringing good cheer to those less fortunate' by providing a small gift to young hospital in-patients.
Ulysses is a group of over 40s with a common interest in motorcycling, and has over 2,500 members. Ulysses provide ways for motorcyclists to get together for companionship, social, recreational and motorcycle riding opportunities. Ulysses Club also provides a political voice for motorcyclists of all ages. A result of this is ACC with their widely acclaimed Ride Forever Program.
"We are humbled and extremely grateful to the people of the Western Bay and beyond for their generosity," says Matthew.
"After a two and a half year gap, we are delighted to have been able to bring back the Ulysses Tauranga Toy Run with the support of Papamoa Unlimited, Onewave NZ and the motorcycle community.
"We hope to be back next year, even bigger and better. Any bike lovers 40+ are welcome to join our social club as we look forward to a safe summer on the open road. Merry Christmas."
More on SunLive...