Putting the spotlight on BOP talent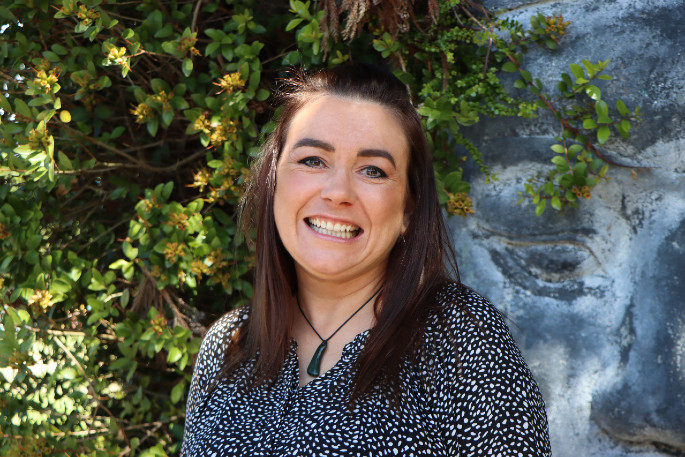 Brooke Stinson is one busy lady.
Somewhat by accident, she has become a champion for the Bay music scene.
Her role is forever morphing and she sports many different hats – she's an event manager, businesses advisor and the 'band Aunty' for many.
Besides her part-time job as Waihi Beach Hotel's booking agent, she does it all for free – juggled with her job as a massage therapist and chakra healer.
"I do it, because I love it," says Brooke.
"There is so much talent here in the Bay. The more I immerse myself in it and the more connections I make, the more I can help others."
Brooke's journey to having upwards of 300 music contacts and a constantly buzzing phone started five years ago, when she moved to her father's hometown of Tauranga from Australia.
"I grew up in Aus – hence the accent."
"The Bay has always felt like my true home. When we'd come to visit I'd get this feeling in my gut as the plane was landing… like a wave of relief."
Joining Hybrid Blues on keys and vocals is how Brooke met a lot of her contacts.
"I was performing, writing and recording with those guys for two years – it was a huge networking experience, going through all of the blues circles in the BOP, Hamilton and Auckland.
"Music is all about who you know, so I started connecting musicians that I met with venues and event managers… and it kind of just grew from there."
Solo artist Louie Campbell is just one of the performers who have benefited from Brooke's knack for networking.
"After seeing me perform, Brooke came up to me after the show and said: 'I like your sound, and I want to book gigs for you'," says Louie.
"She's booked a lot of gigs for me and is always promoting my stuff just out of her own generosity. The money I've made from the performances was enough to buy my own recording gear so I can make an album – it was a massive help.
"She's one of the kindest souls I've ever met. We need more people like Brooke."
It was a similar story when Brooke met four-man indie rock band, Copper Feel.
"I just remember hearing them perform and thinking: 'oh my God, these guys are going somewhere'," says Brooke.
"They did the brilliant music course at Toi Ohomai and started gigging, recording and putting themselves out there – but there was no one there to help them out with the extra little bits and pieces."
When Copper Feel headlined a Waihi Beach Hotel koha gig, Brooke was at the front of the stage shaking the money bucket, encouraging raffle sales and selling a stack of posters. It earnt them $1200 to go towards the recording of their first EP.
Copper Feel lead singer and guitarist Sharn Wiltshire says being mentored by Brooke has led to many opportunities for the band. He describes her as the band's Aunty, and unofficial fifth member.
"She has shown us how to do things we wouldn't have even thought of," says Sharn.
"At the moment, she's teaching us how to register the band as a business so we can fairly share the expenses.
"We go to her for all sorts of advice and she has never asked for a cent from us – she's incredibly self-less, and we're very grateful for her."
Brooke met Copper Feel at Bay Rains, an event she organised with her friend and fellow Aussie, Peta Clavis.
The event saw 102 artists perform over three venues in March this year. Two bands flew from Australia especially for the event.
"Our hometowns were going up in smoke in the Australian bushfires. We felt helpless and thought: 'what the heck can we do?'"
The event raised enough money to plant 80 trees for koalas.
"No one got paid – all of the proceeds went to the cause. The way the artists got behind it was absolutely amazing. The people in the Bay music scene are some of the most giving people you'll ever meet.
"There's a whole community here doing their bit for youth music and cultivating Tauranga's music culture, like Riff Raff Promotions, Bay Originals founder Adam McLean and DLH Grooves' Les Robinson just to name a few."
Despite finding her feet in management, Brooke says there's "no better feeling than performing on stage".
"I'm still writing songs. I have material coming out with Anthony Coulter and am recording backing vocals for The Artist RED.
"Currently I'm putting together a North Island tour for Hybrid Blues. I'm not officially in the band anymore, but I'll definitely be getting up there!"
More on SunLive...