Businesses benefitting from light and art festival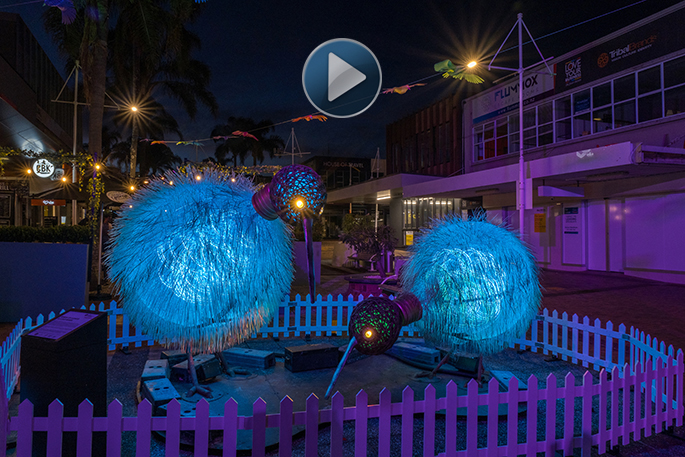 The Birds of Lumos giant Kiwi's light and art installations in Red Square is contributing to an increase in business for restaurants, bars and shops in the cbd in the lead up to Christmas.
Mainstreet Tauranga spokesperson Sally Cooke says the benefits are pleasing to see.
"We launched the Trustpower Toi Tauranga Festival to bring vibrancy and variety to our city centre in the lead up to Christmas.
"We knew that if we introduced some dynamic and unique attractions and offerings we could help increase foot traffic that would potentially have a flow on effect for businesses and it is working, so we are delighted."
This time lapse video just released by Mainstreet Tauranga captures the public interaction over just a couple of hours on one evening this week https://www.downtowntauranga.co.nz/birds-of-lumos-in-red-square
CBK Craft Beer and Kitchen Owner Billy Emeny says the light and art installation and festival has been hugely beneficial for business.
"The Red Square activation has been the best initiative Downtown Tauranga has done in regards to increasing foot traffic and trade.
"Every Saturday we have seen an increase in breakfast and lunch orders and our evening trade is increasing as people are coming into the cbd to look at the kiwis and the light show. It's fantastic to see more people around and it's really helped my business. We need to do more of this."
The Birds of Lumos and Love Birds installations have previously been in the Vivid Sydney Light Festival and across New Zealand and Australia at other festivals.
"To effectively attract more people into our city centre and create dynamic and unique experiences we need to do more initiatives that delight and amaze.
"With Wharf Street now reopened and looking beautiful and the Farmers Development taking shape people can start to see a brighter future for our city centre. But we still have a way to go and in the interim it's vital as a city centre that we create unique experiences that have a real wow factor."
Hammon Diamond Jewellers Manager Alexandra Hammon Elliott says the festival has been great for the city.
"We are so loving the atmosphere downtown and the sense of collaboration between retailers & Mainstreet Tauranga with such great initiatives as the Red Square light display & the Weekend Sun Kids Kiwi Treasure Hunt. We find the sense of community strong & heart-warming."
A key part of the festival has also been the live shows each Saturday morning in Red Square featuring community and cultural groups and Santa.
"Many of the community groups that normally perform in the annual Christmas Parade came down to Red Square to perform for the public and this has been an important way for us to showcase our creative and cultural community and add vibrancy to the CBD," says Sally.
The Birds of Lumos and Love Birds installation remain in the city centre until January 6th with light shows nightly.
For more info visit www.downtowntauranga.co.nz
More on SunLive...