Troublesome BOP alleyway to remain open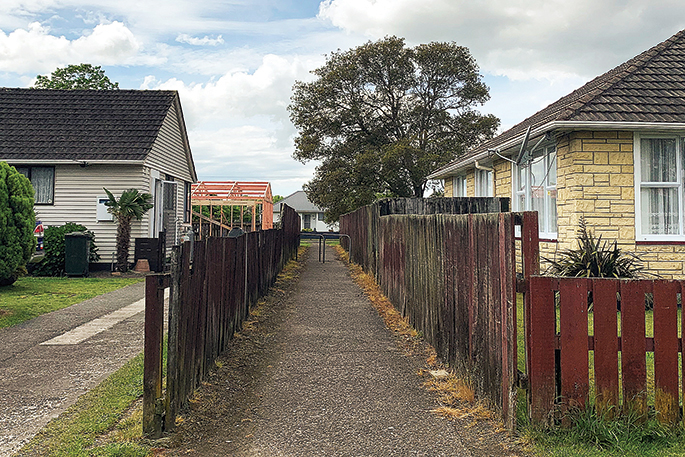 The possible closure of an alleyway in Kawerau because of crime, people urinating and the dumping of rubbish, has been vehemently opposed by the community.
Neighbours of the troublesome alleyway, which runs between Fenton and Pollen streets, have been complaining for years of anti-social behaviour and have asked Kawerau District Council to close the access.
However, they have not been supported by the community.
The council received 46 submissions to keep the alleyway open and only three to close it.
Included in this was a petition to keep the alleyway open with 42 signatures.
The petition stated the community would like to keep the alleyway open because it provided a quick route into town and the Fenton Street reserve.
It also said there was a fire in the street last year and despite road entrances being closed off, people were still able to get to town through the alleyway.
All other submissions to keep the alleyway open provided similar reasons.
Those who asked to close the alleyway said they suffered constant disturbances from antisocial behaviour.
This included school students rarking up their dogs, breaking bottles, throwing rubbish and "brown eyeing" residents.
Councillor Aaron Rangihika noted there had been over 40 requests to keep the alleyway open and "very few" to close it.
"I think we as a council really need to try and make this alleyway more appetising," he says.
"It's not really the greatest, so I think we need to pick our game up."
Rangihika says he has tried to ring a couple of people who have made submissions on the alleyway closure proposal but has not received an answer.
He notes a lot of school students used the alleyway to shorten their walk to and from school.
While Rangihika "respects" the people who asked to have the alleyway closed, he feels the council should keep it open.
Councillor Rex Savage says a lot of elderly people live on the street and if the alleyway were to be closed, they will have to walk a lot further.
Mayor Malcolm Campbell says he respects the people who have asked for the alleyway to be closed.
"There are issues around alleyways, however, they are a public amenity.
"They do service a reasonably large area in that part of the town."
He questions whether installing a new fence and "tidying up" the alleyway could solve some of the problems.
Councillor Berice Julian says the council should "strike while the iron's hot" and act now to tidy up the alleyway.
Councillor Carolyn Ion notes the council can't please everyone, but it could tidy the alleyway up.
"We want to help so I hope the applicant and the non-supporters hear that."
Councillors voted to keep the alleyway open but will work with neighbours to come up with proactive solutions.

More on SunLive...