Joy to all at Carols on the Waterfront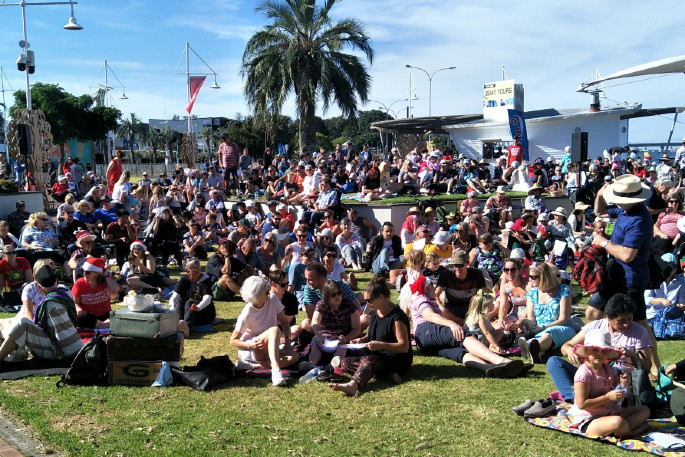 Carol on the Waterfront is continuing to be a popular event with an evening of joyous singing, getting into the Christmas spirit and socialising with the community.
This year's event was held on Sunday, December 20, at the Edgewater fan and the evening, as usual, was a hit with those who attended.
"We had a great time, about 600-plus people," says Rev Simon McLeay from St Peters Church.
And despite the weather, Simon says the carollers were able to lift spirits and enjoy the evening.
"The wind blew but we managed to sing louder, it was sunny and warm!"
Singers were accompanied by the Salvation Army band, who Simon says did a "great job, playing nine carols which we all sung with gusto".
"Inachord Chorus were excellent supporting the carols and singing a couple of extra songs."
Carolling was followed by an immersive tale of the Christmas story from a different perspective.
"We followed the story of Christmas through the eyes of Mary and Joseph and we all ended up at the manger," says Simon.
For those who find themselves at a loose end this Christmas and want to share a meal with others, St Peters in the City Tauranga will again be hosting its annual Free Christmas Dinner.
St Peters offers a free dinner of ham and chicken to about 200 people every year. Some are older folk on their own, some are large families, some are students living alone; any and all are welcome.
For more details, visit: www.stpeters.org.nz
More on SunLive...