Yasa's remnants to fall apart just offshore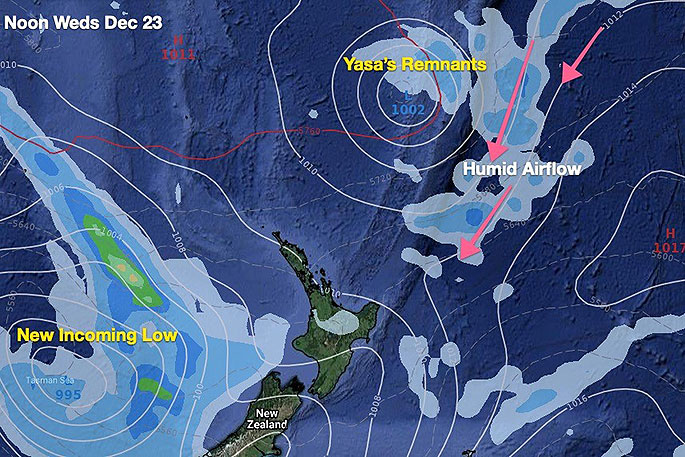 The rainy remnants of what was Cyclone Yasa will get quite close to NZ on Wednesday - but fail to reach here due to so much high pressure in the north.
While this is positive news for many people busy in the lead up to Christmas it's not good news for farmers, growers, those on rain water and for the Auckland storage dams, says WeatherWatch.co.nz.
In fact, the failure of this rain event may now undo long range forecasts that suggested normal rainfall would return mid to late December.
Now Auckland, along with Waikato, Bay of Plenty, Coromandel Peninsula and Northland may all be looking at a much drier than usual December despite La Nina being here.
WeatherWatch.co.nz has been saying for months now that this La Nina in particular looked moderate and short lived, meaning it may not have the oomph to really bring in the rain to NZ. That it was a silver lining for dry regions - but not the silver bullet to fix it.
WeatherWatch.co.nz will continue to track the rainmakers and use scientific information and the best science advice from the Bureau of Meteorology out of Australia and of course the data we have.
To see your upcoming rainfall figures locally please refer to the daily and hourly rainfall totals at WeatherWatch, or drill down even deeper with the rain data at www.RuralWeather.co.nz.
More on SunLive...