COVID update here and around the globe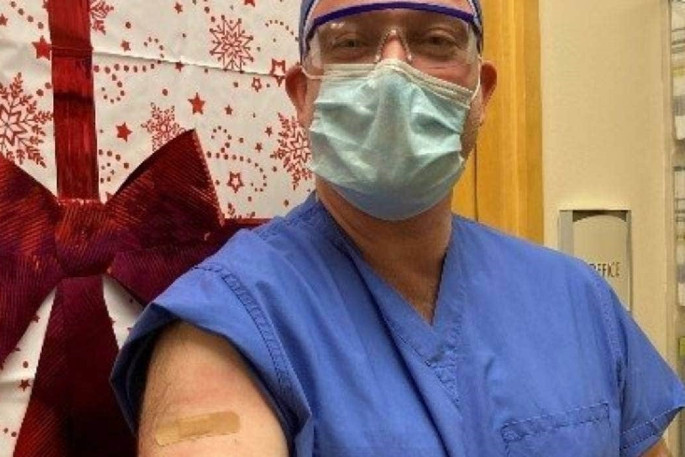 Kiwi doctor Richard Johnston has become one of the first New Zealanders to get a COVID-19 vaccine in the United States.
"I just stuck my arm out," says Richard, while speaking to Stuff from Seattle where he works as an urological oncologist.
"It's really just identical to a flu vaccine, so no different whatsoever ... didn't feel a thing."
Minister Chris Hipkins has announced the Government will put an extra $2.86 billion into the country's testing and border response for the period until June 2022.
Wellington company Inhibit Coatings has developed a silver nanoparticle coating that testing has shown can reduce COVID-19 on surfaces by 99.9 per cent.
It was produced as part of the Ministry of Business Innovation and Employment's COVID-19 Innovation Accelerator programme.
Global toll
More than 75.9 million people have been infected by COVID-19 worldwide, according to Johns Hopkins University.
The United States still has the highest concentration of cases and deaths - 17.5m cases, 314,572 deaths.
India and Brazil round out the top three countries with the most infections and fatalities - India has reported 10m cases and 145,136 deaths and Brazil has 7.1m cases and 145,136 deaths.
To date, 1.68m people have died from the virus.
British Prime Minister Boris Johnson has announced big lockdown measures for London and much of the south of England which will mean families cancelling Christmas and many shops closing.
California hospitals are struggling to find room for patients as the virus continues to sweep through the United States.
What should I do?
Anyone who wants to get tested can find their local testing centres by visiting the Ministry of Health website. New Zealand is at COVID-19 alert level 1.
Masks are mandatory for: people travelling on public transport services in and out of the Auckland region; the drivers of small passenger service vehicles in Auckland, such as taxis and app-based ride services; and people travelling on passenger flights throughout New Zealand.
If you are sick, call your GP before you visit, or Healthline on 0800 358 5453.
To avoid contracting and spreading the virus, wash your hands properly, cough and sneeze into the crook of your elbow and throw tissues away immediately.
Reach out, find support from people who care, connect with your community or help a neighbour in need.
More on SunLive...