Waiting to see if Yasa sends NZ tropical weather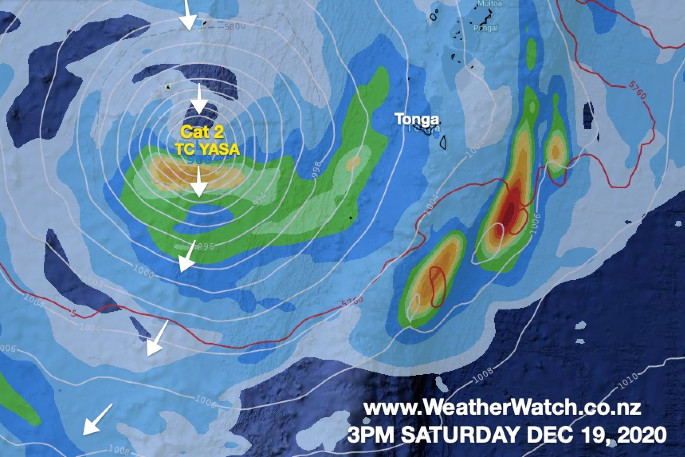 High pressure now lies well east of New Zealand and it's this large high that will help guide the remnants of Yasa towards NZ next week says WeatherWatch.
"Nothing is yet locked in with what Yasa might do, but one possibility is that it could bring a much more humid sub-tropical nor'east flow into northern NZ," says a WeatherWatch spokesperson.
"But for today, Saturday, we have that high extending over the North Island, but slipping off the South Island.
"This set up allows a warm, sub-tropical, nor'wester to kick in through a number of places in the South Island."
Yasa is no longer a 'severe' tropical cyclone but is still a powerful storm packing a punch as it passes just to the west of Tonga today.
The capital Nuku'alofa has rain with heavy falls and thunderstorms today along with strong winds, up to gale force at times.
But the centre of Yasa should remain just enough to the west to spare Tonga from much more serious damage.
Yasa should be at its closest to Tonga by about 3pm today.
It's still unclear if Yasa's remnants will have any impact on New Zealand. This is due to powerful high pressure which is dominating over the North Island and out to the east.
It is looking clear however that WeatherWatch.co.nz expects Yasa to be torn apart and does not expect any "storm" reaching NZ.
"However Yasa does have the possibility to punch through the atmosphere and open up a corridor of more tropical weather into the NZ area. Latest modelling today shows this could happen – but it may easily happen just a short way offshore and entirely miss NZ.
"We'll have much more details on Monday – including locking in that Christmas Day forecast with a bit more certainty."
Eastern areas of both North and South islands are likely to reach 30 degrees today, including inland in some places.
A cooler change with rain is spreading into Fiordland, South Westland and Southland.
Regional forecasts:
Northland, Auckland, Waikato & Bay Of Plenty
A mix of sun and cloudy with light winds, mainly from the north east. Sea breezes too.
Highs: 22-27
Western North Island (including Central North Island)
A mix of sun and cloudy with light variable winds. Sea breezes.
Highs: 20-25
Eastern North Island
North to north east winds brings a mix of sun and cloud. Inland areas look warmest.
Highs: 20 – 28
Wellington
Northerlies return bringing a mix of sun and cloud.
High: 21
Marlborough & Nelson
Mostly Sunny with northerly quarter winds. Hot inland.
Highs: 23 – 30
Canterbury
A hot day with a mix of sun and cloud with northerly quarter winds.
Highs: 21 – 32
West Coast
Fairly cloudy with a few light showers or drizzle patches, otherwise dry. Nor'West breezes.
Highs: 18 – 24
Southland & Otago
Quite cloudy at times but sunny spells more likely in Central Otago. Northerly quarter winds. Dry or mainly dry.
Highs: 18-27
More on SunLive...